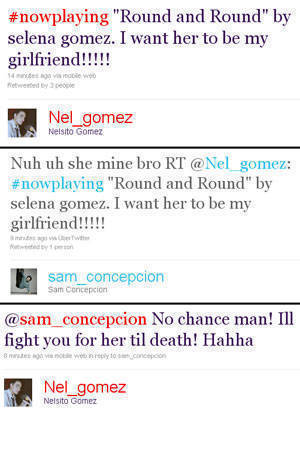 When Nel Gomez tweeted that he was listening to Selena Gomez's song, "Round and Round," we never thought it would turn into this cute Tweet War—a friendly one, don't worry—between him and four-time Candy Cutie Sam Concepcion.
Sam retweets Nel's message and tells him to stay away from her. In the middle of the tweet exchange, Nel gets desperate to get Selena to follow him on Twitter, he makes a "twitition" to ask his followers to sign and help him get Selena to follow him on Twitter. Out of nowhere, AJ Perez enters the conversation and tells them that Selena thinks that they're both weird. They're just too cute to ignore!
ADVERTISEMENT - CONTINUE READING BELOW
Who is more deserving to be Selena's "boyfriend?" Bianca (via Twitter) says she picks Sam over Nel because it would be weird to marry someone who has the same last name as hers. How about you? Take your pick and leave a comment below.
Follow Candy on Twitter @candymagdotcom.