These couples have proven time and again that real love does win in the end. In an industry plagued by breakups and divorces, these couples prove that there are those who'll stand the test of time and always, always find their way back to each other's arms. They've also showed all of us that if you work hard enough, your relationship will survive anything and everything too.
1 Emma Stone and Andrew Garfield
Rumors that #Stonefield have broken up for a short while made headlines earlier this year, so when they were spotted together again after Andrew's return to the US, the entire fandom almost lost it. But Emma recently spoke with WSJ Magazine and revealed that that breakup never really happened, proving in the process that they're actually going strong.
2 Lily Collins and Jamie Campbell Bower
They may have separated for a while but when Lily and Jamie met again this year, the two rekindled their love. We're pretty sure that these love birds who met on the set of The Mortal Instruments: City of Bones found out that they're really better together. Just look at Lily's Instagram posts and Jamie's tweets and you'll understand what we're talking about.
3 Vanessa Hudgens and Austin Butler
Reports that V and Austin took the time off for a short while spread early this year when the two were apart because V was in New York for Gigi. So when they finally reunited, we knew those reports weren't really true.
READ: Us the Duo on How Music Helped Their Long Distance Relationship
4 Ellen DeGeneres and Portia de Rossi
These two are undeniably one of the sweetest couples in Hollywood. Ellen is known to surprise Portia with grand gestures during their special days, while Portia has been vocal about how much their relationship means to both of them. Put them together in one place and we're sure you're bound to say "aww" forever.
5 Jenna Dewan-Tatum and Channing Tatum
After meeting on the set of Step Up (the very first one, guys!), Channing and Jenna instantly hit it off and now have their beautiful daughter to bring more sunshine into their lives.
ADVERTISEMENT - CONTINUE READING BELOW
6 Neil Patrick Harris and David Burtka
How much of a relationship goal are these two? David first proposed to Neil, and he said yes. The year after that, on Valentine's Day, Neil proposed to David while he was wearing the engagement ring. How can anyone possibly beat that?
7 Anna Faris and Chris Pratt
Follow them on social media and you'll know just how much these two are into each other. Remember when Anna tweeted about how she can't believe that hottie from Jurassic Park is her man? Or that time Chris serenaded his wife on Saturday Night Live? Too sweet, guys.
READ: Things Girls in a Relationship Should Just Stop Saying
8 Blake Lively and Ryan Reynolds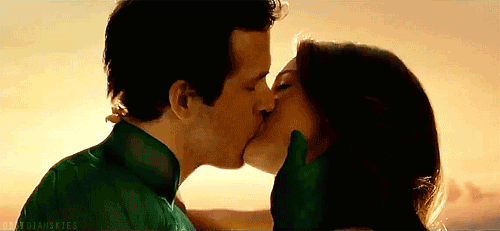 via obsidianskies.tumblr.com
If you haven't seen the way these two look at each other while walking on the red carpet, or how they talk about their lovely family in interviews, then you should know that Blake and Ryan are so in love with each other that it almost makes us want to cry happy tears.
9 Hannah Bagshawe and Eddie Redmayne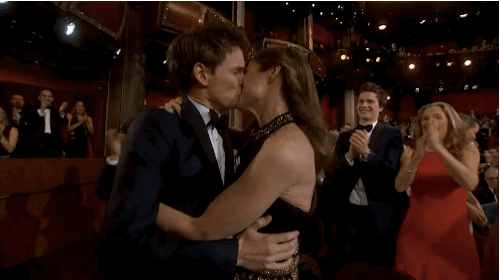 via buzzfeed.com
ADVERTISEMENT - CONTINUE READING BELOW
The Academy Award-winning actor talks about his wife Hannah as passionately as his acting career... or even more. These two who met at Eton College, started out as friends, and started dating officially in 2012. Last year, they got married and lived happily ever after.
10 Angelina Jolie and Brad Pitt
If there's one couple we're so invested in, it's probably Brangelina. Through the media, we've seen them handle their big family like it's no big deal and have read the touching details of their wedding, which involved so much team effort from their whole family.
Who are the couples on your #RelationshipGoals list? Let's talk in the comments or via Twitter @candymagdotcom. We always love hearing from you. :)