Rain is getting married! The Korean actor took to Twitter to announce his engagement to the Stairway to Heaven actress, Kim Tae Hee, in the form of a letter. Below is his translated message to his fans.
"Hello, I hope everyone's healthy this cold winter.
"This is Jung Ji Hoon.
"Already 16 years have passed since I debuted. The fans that were with me all that time have become beautiful women and mothers.
"Now I, as the oldest son in my household, also seek to become a great husband. [Kim Tae Hee] has always been there for me, unmoving, in sad times and in happy times, and she never fails to amaze me. Our trust and love for each other is as strong as ever, and we've decided to take the leap.
"As the current times are unstable, we will be as quiet and humble as possible with our wedding ceremony. As such, we apologize for not revealing details to the public.
ADVERTISEMENT - CONTINUE READING BELOW
"Thank you again to everyone for sending me so much love over 16 years. I will continue to move forward with my career, both as a singer and actor, with responsibility and modesty.
"She is the best present to me." (via soompo.com)
Fans couldn't believe their eyes when they saw Dove Cameron's snap of herself and her friend Kiersey Clemons kissing on the lips. To set the record straight, one of Dove's followers tagged her in both tweets saying, "like this if gay" and another one that said, "like this if bisexual." Guess what? She liked the latter! But wait, there's more! Another fan tweeted that the Hairspray actress and Bella Thorne hooking up would be goals. Bella's reply? "Yeah trust me. I have thought about it," with a winking and blushing, kissy-face emojis. A few fans were able to screenshot Dove's reaction, which was "We would look pretty cute together #powercouple" but what's on her feed now is just "bahahaha #powercouple" Whether they're serious or just messing with us, one thing's for sure: we want more details! (via dolly.com.au)
ADVERTISEMENT - CONTINUE READING BELOW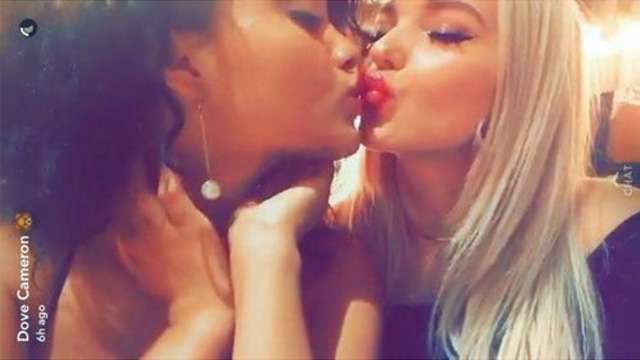 Britt Robertson of Tomorrowland and Asa Butterfield of Miss Peregrine's Home for Peculiar Children team up in The Space Between Us (in theaters on February 1), a not-so-typical young adult movie about friendship and out-of-this-world adventure. Watch the trailer below to see for yourself. 
Who would've thought this day would come when three of our favorite fictional characters would join forces and be awesome together. By "awesome together," we mean Gossip Girl's Ed Westwick, Harry Potter's Rupert Grint, and Skins' Luke Pasqualino working together in a TV show involving guns, organized crime, gold and diamonds. *eep* Snatch is set to be shown on March 16, but you can watch the trailer below, which has just been released today, btw. (via dolly.com.au)
ADVERTISEMENT - CONTINUE READING BELOW
Uh-oh, Kapuso actress Bianca Umali has been getting a lot of negative comments about her recent post on her social media accounts. Bianca posted a barefaced selfie along with a message about girls relying heavily on makeup instead of being confident even without it, encouraging girls to take a no-makeup, no-filter selfie and tag her in them. Read her post below and let us know what you think! (via pep.ph)
Got more goss? Tweet us @candymagdotcom!
ADVERTISEMENT - CONTINUE READING BELOW