In the middle of the splashy, beautifully chaotic spectacle that is The Get Down, a new Netflix show about the fictionalized origins of hip-hop in 1970s Bronx created by Moulin Rouge's Baz Luhrmann, is a familiar face: Radar, best friend to Q and Ben in John Green's Paper Towns, played by Justice Smith. You'll remember Radar as the insightful friend with an obsession for editing the Wikipedia-like Omnictionary in the movie. On The Get Down, the love of words is still there, with Justice's character Ezekiel "Zeke" Figuero as the promising wordsmith, the MC (Master of Ceremonies), the "Books" to up-and-coming DJ Shaolin Fantastic.
Zeke's genius way with words not only leads him to the exhilarating world of hip-hop, not only prompts his teachers and guardians to sit up and take notice of his talent, not only gives him direction and hope, but also helps him in his quest to win the heart of his one true love, Mylene Cruz, an aspiring disco singer with a strict pastor for a dad. In this six-hour smorgasbord of storylines (like we'd expect anything less from the Baz!), Zeke and Mylene's West Side Story-esque romance is one of the standouts thanks to their rhythm and rhyme. Only Mylene can bring out the romantic in Zeke—see below for some of Zeke's best lines to and about his girl.
ADVERTISEMENT - CONTINUE READING BELOW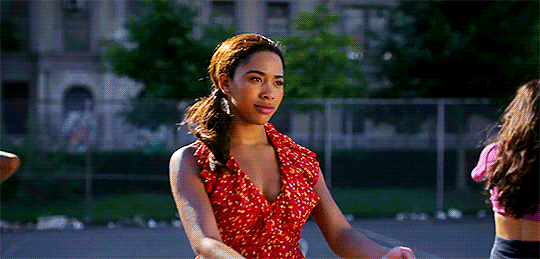 "When you sing it's like how red velvet feels. Like how butterscotch tastes—warmed up though, like how they serve it sometimes. You sounded like that. You're tender, like crying tears tender." 
"I ain't no hard rock like you, but when it comes to my girl, I'm all heart. I'm do or die. Kill me all you want to. Stab your hate into my love. You might kill me but you'll never beat me. 'Cause I got love and you'll probably never know what that is."
ADVERTISEMENT - CONTINUE READING BELOW
"I want to be your man, Mylene. I know you like me. I like you so much, I can hardly breathe. I like you so much, I feel like I got thunder and lightning inside of me. You make me nervous, but you also make me calm. Real calm. Calm almost like how God must be calm, you know, Mylene? Calm from loving. I love you."
"If I moved there, you'd visit me, right?"
"Mylene, you'd arrive, open your suitcase, and I'd pop out... We've made it this far. Just keep loving me and it's gonna all be alright. All we gotta do is love each other, right?" 
You can binge watch The Get Down on Netflix.