All Access
Did You Know? The First "Miss Philippines" Was Also an Ilongga
Pura Villanueva Kalaw was a beauty queen, suffragist, journalist, and much more.
IMAGE (LEFT TO RIGHT) INSTAGRAM/RABIYAMATEO, Courtesy of Alex D.R. Castro/manilacarnivals.blogspot.com
"Basta Ilongga, gwapa." This was the banner Rabiya Mateo of Iloilo City carried into the 2020 Miss Universe Philippines pageant—one that ended with her triumphantly wearing the coveted crown. The 23-year-old Ilongga made waves when she cited the late senator Miriam Defensor-Santiago during the pivotal Q&A portion, stating that she would put the fellow Ilongga's image on our paper currency if given the chance. "After all, she is the best president that we never had," said Mateo.
And while we're living to see a strong woman reference another, we want to put the spotlight on another trailblazing Ilongga: Pura Villanueva Kalaw, who just so happens to be the Philippines' first "beauty queen."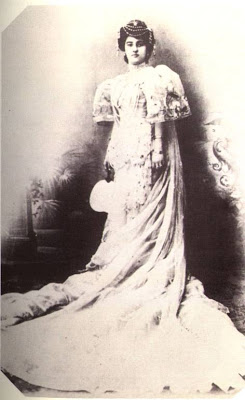 Kalaw was crowned "Queen of the Orient" in 1908, during the first ever Manila Carnival. This title that would later become "Miss Philippines" in 1926—making her the first one! She was born on August 27, 1886 in Arevalo, Iloilo City, to Emilio Villanueva, an ilustrado, and the Spanish-born Emilia Garcia. She was just 22 years old at the time of her "coronation."
Back then, the pageants played out very differently. Manila Carnival Queens were chosen based on three critera, namely: beauty, talent and good family background, pointed out historian Ambeth Ocampo in an article for the Inquirer. There were technically two queens crowned during the 1908 carnival: the "Queen of the Occident," Marjorie Colton, a sister of the customs collector; and the "Queen of the Orient," Villanueva (unmarried at the time).
As Kalaw was quoted by Ocampo on her experience during the carnival, it was clear that the American organizers favored the "Queen of the Occident." "Those who most enjoyed themselves and also made the most of the Carnival were the foreigners. And the reason was that, being the first Carnival festivity, it was still unknown to us. Those who organized and managed it and animated it were the Americans," she said in a 1934 interview.
Two years before she was crowned Carnival Queen, Kalaw was making strides that would make her current Ilongga successor proud. At 20 years old, she organized the Asociacion Feminista Ilongga, a group of suffragetes whose credo was "What a man can do, a woman can do as well." This was also the Philippines' first suffragette movement led purely by women. The right to vote was not given to women until 1937, thanks to a national campaign spearheaded by Kalaw and her contemporaries.
From The Candy Bulletin Community