All Access
OTP Alert: Arrow's Oliver and Felicity
This unlikely yet organic pairing has run away with shipper hearts.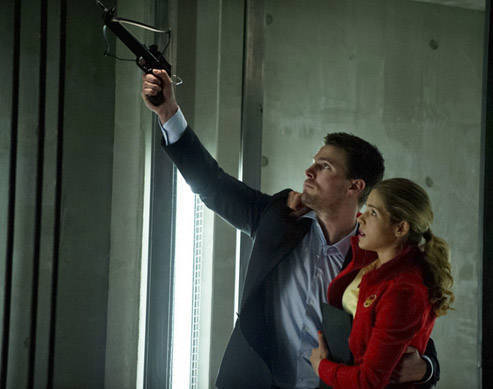 PHOTO The CW/JackTV, GIFs via Tumblr
I know, I know—I just raved about Oliver and Felicity last week and here I am talking about them again. But have you seen episode six??? SPOILER ALERT: Oliver sorta kinda maybe admitted to Felicity that he could have feelings for her if he were to allow himself. Ollicity is totally happening, you guys!

(via oliver-and-felicity.tumblr.com)
ADVERTISEMENT - CONTINUE READING BELOW
Episode six was a real turning point for this ship, thanks to Oliver's new business partner, Isabel (all hail geek princess Summer Glau!). It was because of Isabel that Oliver found out that everyone in the company was gossiping about him and Felicity, after he promoted her from tech support to executive secretary all in the name of crime fighting. It was because of Isabel hooking up with Oliver that drove Felicity to ask him, "Why her?" It was because of Isabel that Felicity finally got real with Oliver.
CONTINUE READING BELOW
Recommended Videos

(via oliver-and-felicity.tumblr.com)
ADVERTISEMENT - CONTINUE READING BELOW
Squee!!! They totally deserve each other because…
1. He protects her, but she also has his back. He has saved her life countless times, and she gives as good as she gets. She offers invaluable support—tech and otherwise. Without her, the Arrow wouldn't be the Arrow.

(via oliver-and-felicity.tumblr.com)

ADVERTISEMENT - CONTINUE READING BELOW
2. They're in love with each other. Felicity is already there, trying desperately to contain her feelings, but they're pulling a Miley. ('Cause you know, they can't be tamed. Heh.) I think Oliver's heart is already there, too, but his brain is still catching up.
ADVERTISEMENT - CONTINUE READING BELOW
(via unlikely-alliance.tumblr.com)
3. They make sense together even if they're not canon. In the comic books, it's always Green Arrow and Black Canary, but I don't see that happening on the show. Arrow's Black Canary is Sara, Laurel's sister, who has come back from the dead. Even if Sara and Laurel both have history with Oliver (ick), there's just no spark quite like Ollicity's.
I'm betting Ollicity will be as drawn out as possible and I'm absolutely fine with that. Slow-burn romance is the best. The BEST. I'm excited for Barry Allen/The Flash to arrive, not just for the obvious reasons, but also because I think he'll make Oliver jealous. Stephen Amell himself says, "Felicity and Barry are incredibly similar and as a result, have an instantaneous chemistry with one another." Bring on the feels!
Bonus GIF: here's Felicity shamelessly staring at Oliver while he works out. Teehee.

ADVERTISEMENT - CONTINUE READING BELOW
Arrow airs every Sunday, 8 pm on JackTV.
Is Pepe Herrera Toni Gonzaga's leading man?
In this episode of Made It, Nina talks about starting a business as a college student and eventually growing her brand into what it is now.
This book will bring out the romantic K-Pop fan in you.
They've also dreamed of being doctors.
They're flexible to accommodate working students' schedules.
The COVID-19 pandemic completely changed the employment landscape.
Through these, viewers become aware that there are different mental health issues being experienced by real people.
Never drink cold coffee again!
"When I saw Jane, I said, she's special."
This fringe looks good on everyone, I promise!
From The Candy Bulletin Community