All Access
Oscars: 15 Things That Happened Behind the Scenes
A backstage pass to all the crazy stuff that went down!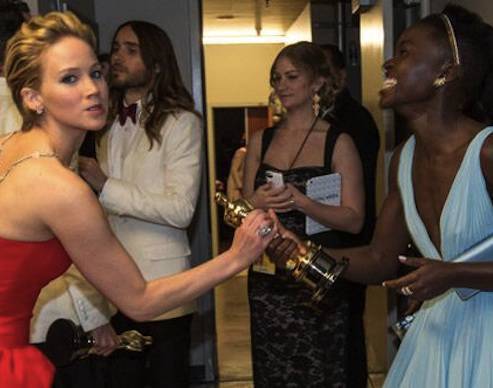 PHOTOS Instagram/Twitter, GIFs Buzzfeed/PopSugar/Tumblr
Ellen DeGeneres wasn't just a great host—she was also a "talent magnet." It's not easy to get A-listers to say yes to improv, but "Ellen made everybody comfortable," says co-executive producer Craig Zadan. "It was all improvised during the show." Remember the selfie that broke Twitter? As far as the producers know, all Ellen told Meryl Streep was, "I'm going to go into the audience and play with you."
But Best Supporting Actor winner Jared Leto tells Insider a different story: he says that after he ran to get in the selfie, he realized that everybody was in on it, so he was technically photobombing. Who cares if it was rehearsed or not—the more, the merrier!

If only Bradley's arm was longer. Best photo ever. #oscars pic.twitter.com/C9U5NOtGap

— Ellen DeGeneres (@TheEllenShow) March 3, 2014

Speaking of, here's a behind-the-scenes look at Emma Watson and Joseph Gordon-Levitt's adorable selfie. I SHIP IT.

Making of the la selfie de Joseph Gordon-Levitt y Emma Watson en el backstage de los #Oscars2014 pic.twitter.com/nErpJgzrhr

ADVERTISEMENT - CONTINUE READING BELOW

— Pedro *fuertecito* (@fuertecito) March 3, 2014

The pizza guy had no idea he was going to meet all those celebrities, including his crush, Julia Roberts. Edgar, co-owner of pizza joint near the venue, thought he was just going to deliver pizza to the writers. He appeared on Ellen the morning after the Oscars, where she gave him a whopping $600 tip collected from the ceremony plus $400 from her own pocket! Lucky, lucky guy!

You know my motto- give the people what they want. pic.twitter.com/JdHUYGeUDo

CONTINUE READING BELOW

Recommended Videos

— Ellen DeGeneres (@TheEllenShow) March 3, 2014

It was pretty cool of Ellen to have some pizza delivered to the starving celebs, but Kristen Bell? She was all good.

When you see me on the red carpet of the oscars tonight, just know…there's a burrito in my clutch. pic.twitter.com/WwXQtMq10A

— Kristen Bell (@IMKristenBell) March 2, 2014

Notice how no one was played off the stage? It made for some spectacular acceptance speeches, even if the show ran long. Craig Zadan says, "We knew as long as the speeches were emotional, we weren't going to play them off. I've never seen so many standing ovations."

ADVERTISEMENT - CONTINUE READING BELOW

You've seen the GIFs, but do you know why Jennifer Lawrence tripped on the red carpet even before the ceremony began? The fault is in an orange cone. Good thing she was surrounded by security and a human handrail!


via Buzzfeed

ADVERTISEMENT - CONTINUE READING BELOW

Benedict Cumberbatch's Cumberbombing was epic to say the least, and it kicked off a photobombing spree.

ICYMI, Benedict Cumberbatch photobombed @U2 so hard—see all the #ERedCarpet photobombs! http://t.co/rsCfkYxh9g pic.twitter.com/1yxi7oJGWO

— E! Online (@eonline) March 3, 2014

Lupita wins for the greatest photobomb in the history of photobombs! #Oscars http://t.co/bDjeoieWOC pic.twitter.com/mxa1sWgiWa

— Marie Claire (@marieclaire) March 3, 2014

OMG HI JARED LETO #echelon RT @marieclaire: Photobomb! #Oscars http://t.co/Snjnx48jwM pic.twitter.com/6CleOuEaBI

— VH1 Celebrity (@VH1Celebrity) March 3, 2014

Backstage at the #Oscars in the #ArchDigestGreenRoom with @JessicaBiel photobombed by Anne Hathaway pic.twitter.com/k3gusKxQ8o

— The Academy (@TheAcademy) March 3, 2014

Who says only the press can take photos of celebs? Here's Jason Sudeikis taking a snap of his glowing fiancé, Olivia Wilde, on the red carpet.

Most adorable couple award! #Oscars pic.twitter.com/fal6jlYUDD

ADVERTISEMENT - CONTINUE READING BELOW

— Marie Claire (@marieclaire) March 2, 2014

Ellen was right—it was the Hunger Games at the Oscars.

Photos: Best moments from Oscars 2014, Jennifer Lawrence, selfies, pizza & more!: http://t.co/fZ7fle2ooG pic.twitter.com/Jja4Oz2cE0

— Hunger-Games.Net (@hungergamesnet) March 3, 2014

Breaking news: Brad Pitt is human.

What else did Brad Pitt do today? "I had to clean up dog poop today. In my bedroom."

— OscarInterviews (@OscarInterviews) March 3, 2014

You know that Pharrell got Lupita Nyong'o, Amy Adams, and Meryl Streep dancing—but did you notice who joined him onstage? Jamie Foxx and his daughter Corinne!


via Buzzfeed

ADVERTISEMENT - CONTINUE READING BELOW

Remember when J-Law went to present Best Actor and told someone off stage, "Why are you laughing? What—is this funny?" Apparently, she was talking to Jared Leto. He was just laughing at something co-star Matthew McConaughey was doing at the side, he tells E!


via totheskyirise.tumblr.com

Ellen hosted an after party on her show the morning after the Oscars, following weeks of preparing and a night of partying. Of course she was a teensy bit tired.

Gopd mrorining! It'sd time to do a live OSxar show. Didn't get much slep but whoneds it?

ADVERTISEMENT - CONTINUE READING BELOW

— Ellen DeGeneres (@TheEllenShow) March 3, 2014

Getting ready for my live show. #Tired pic.twitter.com/qZ8zD1XVW0

— Ellen DeGeneres (@TheEllenShow) March 3, 2014

One thing we can't quite explain: how John Travolta massively screwed up Idina Menzel's name. A couple of things sort of make up for it, though: the Adela Dazeem Twitter account and this name generator.

THANK YOU, JORN TROMOLTO!

— Adela Dazeem (@AdelaDazeem) March 3, 2014
If you missed the show, you can still catch the red carpet special and the awards at 1pm this Saturday, March 8, on the Lifestyle Network.
'Mom and I have worked so hard to get to where I'm at.'
It's all thanks for their common love for making coffee.
They once received a lot of hate for their dark skin, but they rose above it and are now leading the shift in society's beauty standards.
First of all, you will be laughing so hard with each episode. Surprise!
Some important life lessons...
The frustration is real with these dramas!
They also received an award!
They come in five cool colorways!
Coincidentally, Pink Sweat$ got engaged to girlfriend JL Bunny just a day before.
From The Candy Bulletin Community