Is your body ready for One Direction: This Is Us? Confession: Macy and I couldn't stop squealing and poking each other at the special screening of the movie—the lads were so adorable, especially in 3D! We may or may not have reached out to touch their beautiful 3D faces.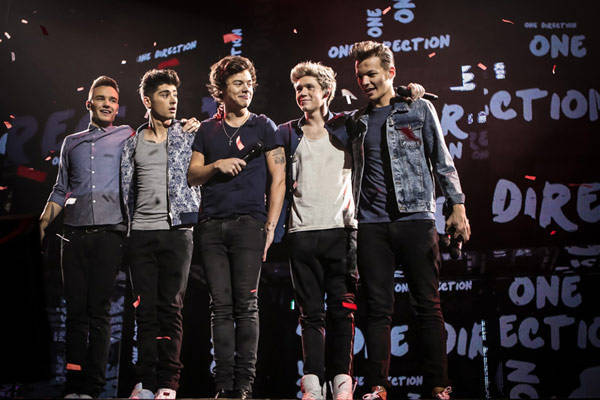 ADVERTISEMENT - CONTINUE READING BELOW
As a true Directioner, you probably already know everything there is to know about 1D, but This Is Us is an awesome, kilig reminder you'll want to see over and over again. So what were we reminded of? (Spoiler alert!)
They're hyperactive. If we had a penny for every time they pranked each other or played hide and seek with their bodyguards or jumped sky-high onstage, we'd have enough money to bring them here for a concert (or 10). Director Morgan Spurlock—who saw more than 30 shows for the movie, that lucky guy—cleverly highlighted the boys' energy using a kick-ass comics-like effect for one number.

ADVERTISEMENT - CONTINUE READING BELOW

They're human. The perfect example is a toss-up between the Who Farted? game in the tour bus and the "mixture of boy and man" smell in their makeshift recording studio.

They're dedicated. Ten minutes after collapsing on his bus bunk, Zayn is forced to wake up to record a bridge of a song. No diva act, so profesh.

ADVERTISEMENT - CONTINUE READING BELOW

They're mates for life. Because you can't go through a whirlwind adventure like they have and not be mates for life.

They love taking off their shirts. Because isn't that what makes them beautiful, one of them asks? Guess who!

They are extremely grateful to their fans. If they could, they'd hug and talk to each and every one—there's just never enough time. I love what one fan said: "They don't know me, but I know they love me." So true, right? (Ed's note: SO TRUE!!! —Macy)


They want to be remembered. They want Directioners to tell their future daughters about them. They want to be remembered as "normal guys... but terrible dancers."
I leave you with a recipe for the perfect This Is Us viewing experience:
One row full of friends to flail with

One 1D shirt and as much merch as you can wear

Zero judgment when your seatmate starts trembling from kilig

ADVERTISEMENT - CONTINUE READING BELOW

Three is for 3D—it'll be worth it, promise.
One Direction: This Is Us opens on August 30.