The ticket selling date for One Direction's second night in Manila has been announced: JULY 3!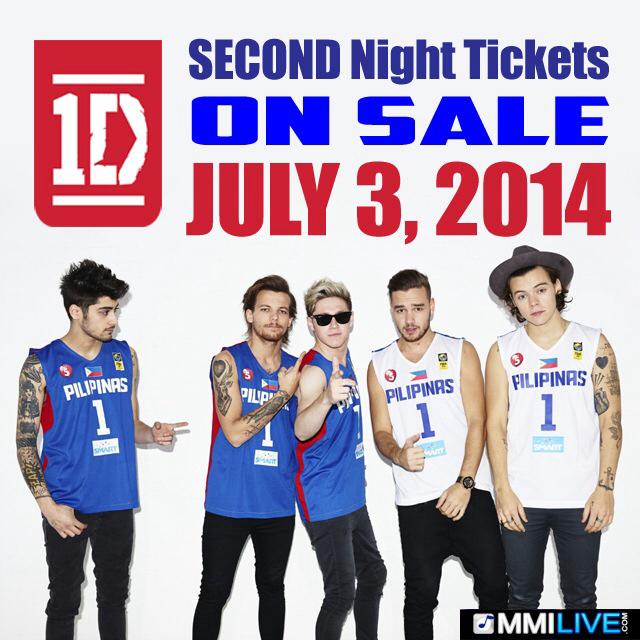 via Music Management International
It is still earlier than expected, but the good thing is you have more than a month to save! Here are a few ways you can set aside some cash for your concert tickets. Game? Game!
ADVERTISEMENT - CONTINUE READING BELOW
1. Sacrifice the little things for a while. Love buying crackers, chocolates, or a can of soda for merienda? Why not skip that for a little while? You might think you're spending a small amount of money every day, but when you add up what you've been spending for days and weeks, we're pretty sure you're close to buying one GA ticket already.
2. Put your skills to good use. Earn some much-needed money with your skillz. Are you good at cooking or baking? Come up with homemade goodies you can sell to your family and friends, which is great because school's about to start and we're sure they need a healthy baon, too. Great at kids? Offer your babysitting services on weekends. Ask your parents if they know friends who could use an extra hand. We're sure they'll be glad to help you in this little project, so they won't be shouldering the entire cost of your ticket.
ADVERTISEMENT - CONTINUE READING BELOW
3. Hold a garage sale. Got shoes, clothes, and accessories you haven't used for a while? Why not hold a garage sale and sell those items? It's a win-win situation for you: You'll have enough space for new stuff and you'll also have money for the tix.
One last reminder: Be practical. We know you want that VIP ticket, but take other things into consideration too. Try talking to the 'rents and compromise a little. The important thing is you get to be there with Harry, Liam, Louis, Niall, and Zayn on that important day—breathing the same air and cheering them on while they kill it onstage.
Good luck, Candy Girls, and may the odds be ever in your favor!
How are you saving for your One Direction tickets? Share your tips with us because we need all the help we can get. Write them down in the comments or tweet us @candymagdotcom!
ADVERTISEMENT - CONTINUE READING BELOW