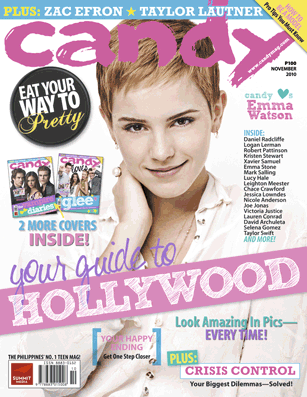 So what's in the November issue? Is the animated picture making you dizzy? We'll break it down for you. In Your Guide To Hollywood, aside from cover stars Emma Watson, Cory Monteith, Lea Michele, Dianna Agron, Matthew Morrison, Ian Somerhalder, Nina Dobrev, and Paul Wesley, you will also see:
Zac Efron
Taylor Lautner
Daniel Radcliffe
Logan Lerman
Robert Pattinson
Kristen Stewart
Xavier Samuel
Emma Stone
Mark Salling
Lucy Hale
Leighton Meester
Chace Crawford
Jessica Lowndes
Nicole Anderson
Joe Jonas
Victoria Justice
Lauren Conrad
David Archuleta
Selena Gomez
Taylor Swift
Plus!
How To Be A Model: Pro Tips You Must Know
Eat Your Way To Pretty
Your Happy Ending: Get One Step Closer
Look Amazing In Pics—Every Time (Who doesn't want that, right?)
Crisis Control: Your Biggest Dilemmas—Solved!
...and so much more!
What are you waiting for? The November 2010 issue is already out in newsstands and bookstores. Grab your copy today! :)
ADVERTISEMENT - CONTINUE READING BELOW