The universe has a sick sense of humor when it comes to timing. Just when you've accepted being friend-zoned, your crush suddenly starts making an effort to hang out with you. Or just when you thought it was the start of something new and beautiful, you find out they're actually seeing someone else, someone you even call a friend. Or just when you thought the one that got away is really gone forever, here they come barging into your life once more. Life is funny and exasperating that way—all we can do is roll with the punches and take comfort in the fact that the universe isn't targeting anyone specific and that its sick sense of humor applies to everyone, including these fictional characters. Here are a few things we can learn from them about making up for missed connections and making the most of second chances.
Alex and Rosie from Love, Rosie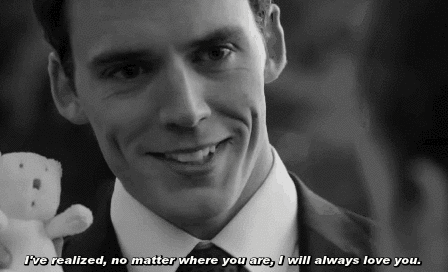 via oestecoast.tumblr.com
ADVERTISEMENT - CONTINUE READING BELOW
First comes love, then comes marriage, then comes baby in a carriage—but not in the case of these childhood friends. First came love, sure, then came a baby (Rosie's), then came marriage (Rosie's then Alex's). "Sometimes you don't see that the best thing that's ever happened to you is sitting there, right under your nose," Rosie tearfully said at Alex's wedding reception. "And that's fine. It really is. Because I've realized that no matter where you are, or what you're doing, or who you're with, I will always, honestly, truly, completely love you... like a sister loves a brother, and a friend loves a friend." Don't you just want to knock some sense into both of them?! After more than a decade of miscommunication, they finally get their act together, which is great and all, but you don't want to wait that long, do you?
Emma and Dexter from One Day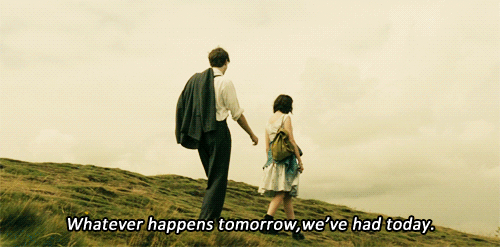 via rubik-00.tumblr.com
If Alex and Rosie's story made you exasperated, then Emma and Dexter's might just drive you to tear your hair out. (That's a bit OTT, but we wouldn't blame you if it really did!) They meet in 1988 after graduating from college, and throughout the years, they encounter all sorts of tragedies, from failed relationships and family fallouts to career disasters and substance addiction. Eventually, they both (wo)man up, getting engaged in 2004. But their happy days weren't mean to last as their relationship ended in a shocking twist. The lesson? Even the most well-earned happily ever after has an expiration date, so we have to make the most of every moment.
Jonathan and Sara from Serendipity
There's nothing wrong with asking fate to take the wheel from time to time—everyone's guilty of it—but there's such a thing as asking for too much. Jonathan and Sara really pushed their luck, writing down their numbers on random items, and getting on different elevators and seeing if they choose the same floor. They lost each other after that magical night, but they remained in each other's thoughts even years after. They both came close to getting married to the wrong people, but fate was like, okay, I guess you two have finally learned your lesson, here's your second chance, don't screw it up. And this time, they didn't.
Which of these movies broke your heart the most? Tell us in the comments section below!