Have you ever wondered what it would feel like to get noticed by a K-pop idol? Well, you can ask Niana Guerrero. At only 16 years old, she's already attracted the attention of Somi, EXO's Chaneyol, BTS, and most recently, NCT's Taeyong.
ICYMI, the TikTok star went viral again on social media last night as Taeyong recreated Niana's choreography of T-pain's "Booty Wurk." Niana's original video had over 2.6M likes on TikTok so other big stars have tried the dance as well.
After a while, Niana left a comment on the post—and Taeyong actually responded to her! "AYE AYE!!" Niana wrote on Instagram. "hei hei~," Taeyong replied. It may have been a quick exchange, but we're still totally jealous!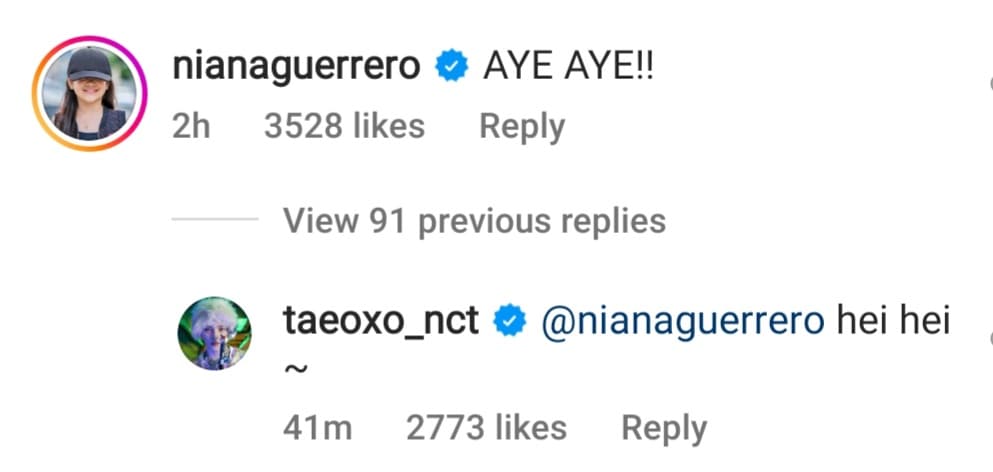 ADVERTISEMENT - CONTINUE READING BELOW
Later on, Taeyong revealed that he never even expected the original TikTok dancer to watch his cover. LOL, he's low-key fanboying over her, too!
Fellow fans also had the best reactions to the interaction, flooding social media with funny "sana all" tweets. They're certainly right—Niana is one lucky fangirl!
Many also hoped for a collaboration between Taeyong and Niana, especially since Niana also previously did a dance cover of Taeyong's "Zoo." Considering that Niana reportedly received a message from SM Entertainment (that's the label that manages NCT, BTW) in 2021, a future collab seems totally possible.
ADVERTISEMENT - CONTINUE READING BELOW
In the meantime, we'll be squealing over this super cute interaction!