Like many of us, Niana Guerrero is an unapologetic fangirl at heart. She has unapologetically jammed to her playlist while driving, posted countless K-pop dance covers on TikTok, and even cried out of frustration while lining up at Billie Eilish's concert. 
Unlike many of us, however, she actually gets noticed by her favorite artists. Hard pill to swallow—we know—but she's already captured the attention of international acts, particularly K-pop stars. We'd be lying if we said we weren't a tad jealous, but at the end of the day, we're just happy to see a fellow fangirl appreciated by her faves. Plus, living vicariously through Niana is low-key fun!   
That said, we've rounded up all the times Niana got noticed by K-pop artists and proved that she's luckiest fangirl alive: 
1. If you message a K-pop idol on Instagram, chances are you won't ever hear back from them. Niana's an exception to that though! Case in point: When Niana thanked EXO's Chanyeol for following her back on Instagram, he sent her a DM to compliment her dance videos. OMG! 
2. She also shared a cute online interaction with NCT's Taeyong after he did Niana's "Booty Wurk" challenge. Later on, he even admitted that he never expected a big internet star like Niana to see his dance cover.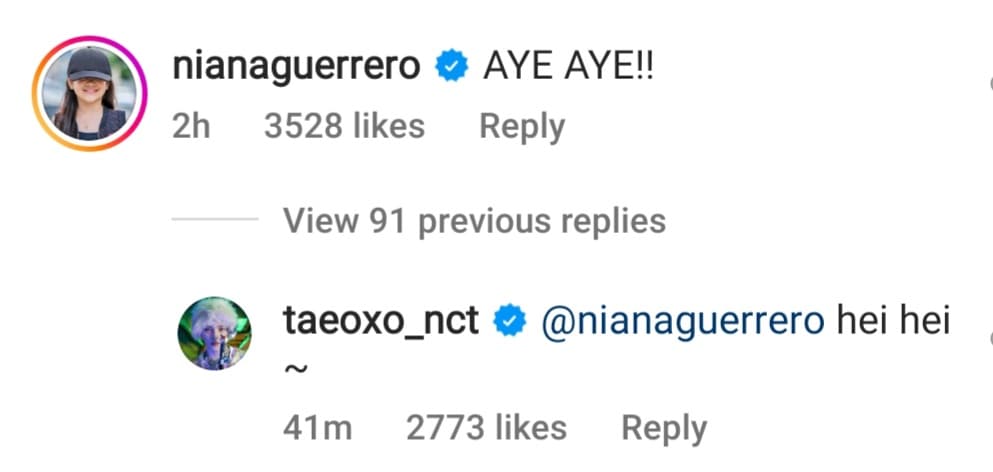 ADVERTISEMENT - CONTINUE READING BELOW
3. Aside from Taeyong, other male K-pop idols have also posted dance covers of Niana's choreography. Some of them include TXT's Yeonjun and Hueningkai, GOT7's BamBam, and  ENHYPEN's Jay and Sunghoon. 
4. Remember when BTS featured one of Niana's dances on their "Permission to Dance (Sports Challenge Ver." music video? Yep, we still can't get over it. 

5. FYI, Niana's luck isn't just limited to quick exchanges on social media. In 2020, she had the opportunity to do a live Q&A with Somi via video call. Afterwards, the call was posted on YouTube and garnered more than three million views! 


6. We'll never forget that time Niana broke the internet because eagle-eyed netizens spotted SM Entertainment in her DMs. We don't know for sure if they were trying to scout her, but she's so talented that we wouldn't even be surprised.  

7. ICYMI, Niana just posted a TikTok video with JAY B yesterday. She truly is one lucky fangirl!