It's almost eight o'clock in the evening at the Esplanade Annexe Studio in Singapore. The lights are dim and there's a small stage set up in front of maybe around 50 people—select fans, members of the press, and invited guests. It's as intimate as it can get and when Niall Horan—One Direction member and now, solo artist under Capitol Records—steps onstage you know that he's ready to show everyone what his music is about. In an interview with Billboard earlier this year, he says, "I've had some good moments with screaming ­teenagers, but I like when the room is completely quiet. It's a ­different kind of respect. People are actually listening." And that's exactly how it feels tonight.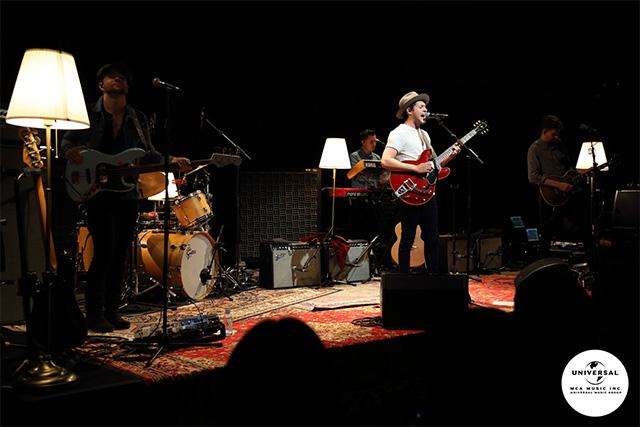 ADVERTISEMENT - CONTINUE READING BELOW
He starts off with his first single, "This Town," crooning into the microphone while strumming his guitar. He's clad in a white shirt, jeans, and a red jacket. Instead of his usual 1D mates, he's now with his new band, Louis Querelle on keyboard, John Bird on bass, Jake Curran on guitar, and Gerry Morgan on drums. You'll be seeing more of them in his just announced Flicker Sessions tour (unfortunately, no Manila stop yet but there's one Asia leg in Tokyo, Japan).
ADVERTISEMENT - CONTINUE READING BELOW
He takes off his jacket, and at this point, hooting from the audience can no longer be helped. Old habits die hard, it seems. He laughs and side-eyes the crowd, "Heyyy, stop that," in that charming Irish drawl of his. He introduces his next song—an unreleased one—"On the Loose," which he says gives a preview of what his new album will sound like. It's got Fleetwood Mac vibes, giving away Niall's preference for older, more retro music like The Eagles and Crosby, Stills & Nash. It's music he admits his much younger fans might not be inclined to listen to but it's what he grew up with. "My parents would play that stuff around the house all the time. The kind of first music I knew and still listen to," he shares.
He performs the unreleased single on an appearance on The Today Show.
We already know there's only one more song left (he's still being quite secretive about the rest of his new record which won't be out till later this year) but he indulges the crowd to a cover of Irish rock band Thin Lizzy's "Dancing in the Moonlight," a song he's performed for BBC Radio 2's 500 Words not too long ago. He recounts that it's a song that stood out to him at a young age, even playing it in bands when he was a kid. Asked if there were any performers he'd love to jam with live, he candidly answers, "I'm good friends with the boys from The Lumineers, so I wouldn't mind doing something with them."
ADVERTISEMENT - CONTINUE READING BELOW
Before we know it, it's already time to say goodbye. He finishes off the showcase with his second single, "Slow Hands," probably the only song that's "out there" according to him. And while this track isn't particularly about him but a situation that's all too familiar to many people, he confesses that it's not always the case—as in girls coming up to him. So what's the hardest he's ever tried for a girl? "This Irish charm thing doesn't get you as far you think it does," Niall admits.
ADVERTISEMENT - CONTINUE READING BELOW
While waiting for the full album release, check out his two singles "This Town" and "Slow Hands" already out now. Available for streaming and purchase, released through MCA Music Inc.