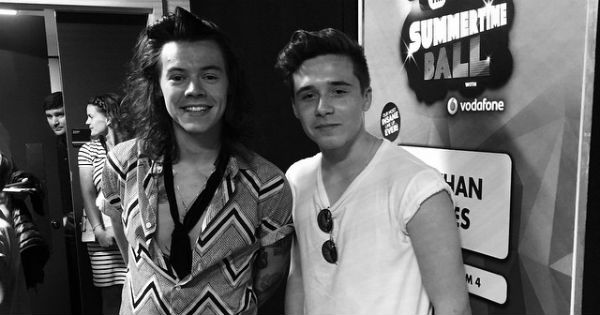 You know what they say, birds of the same feather flock together. In this case, it's bros. We recently spotted One Direction's Harry Styles and Brooklyn Beckham in the field together after they played football with his dad, football superstar David and his dad's best pal Dave Gardner. (via DailyMail.co.uk)
So many handsome faces in this photo!
ADVERTISEMENT - CONTINUE READING BELOW
READ MORE:
Brooklyn Beckham Is In The Vamps' Music Video For "Wake Up"
Brooklyn Beckham's Guide to Owning Instagram
An Inside Out Character Was Inspired By One Direction's Harry Styles
David will be back at the stadium next month for a charity game he's playing for the benefit of UNICEF. Meanwhile, we're here thinking how nice it is to see our boys getting along so well. ICYMI, we also recently spotted Brooklyn with the boys of The Vamps for the music video of "Wake Up."
What do you think of Harry and Brooklyn, Candy Girls? Let's talk in the comments! :)