ICYMI, Nadine Lustre recently dropped the lyrics and music video of her newest song "Wait For Me," which seemingly talks about letting go after a breakup. The lyrics and music video were released days before her 28th birthday as a gift to her fans. The song also served as the end of this chapter of her career as she takes a hiatus from music to focus on her film comeback.
In the black-and-white music video, Nadine sings about learning to let go of a former lover, not wanting to hold them back any longer, and going their separate ways. Check out the super *emotional* chorus of the song:
Need a little time to think
You don't gotta wait for me
You can do your own thing
While I do some work on me
I don't wanna make a mess of your love
And I can't be the one that's holding you up
You can do your own thing
You don't gotta wait for me
ADVERTISEMENT - CONTINUE READING BELOW
Due to the emotional nature of the song, JaDine fans considered it as their "closure" to the breakup of Nadine and former reel- and real-life partner James Reid. The couple first became Insta-official in February 2016 and they announced their breakup in January 2020. In the year following their separation, they were spotted together on trips with friends and even worked together on Nadine's music. All of this led to speculation that the two ~rekindled~ their relationship.
ADVERTISEMENT - CONTINUE READING BELOW
Before the release of "Wait For Me," however, came the reports that Nadine is in a *new* relationship. About a week before the song dropped, James starred in a music video for Zack Tabudlo's song, "Para Sa Mga Ex," where he played a man that was struggling to move on after a breakup. This was also around the same time James posted photos of the P80-million house that he was selling—the very same property that the two reportedly used to share.
ADVERTISEMENT - CONTINUE READING BELOW
With the release of Nadine's song, fans were moved by the lyrics and felt that they *finally* got the closure they needed from the couple's breakup. They took to Twitter to share their ~feels~ about the emotional ballad: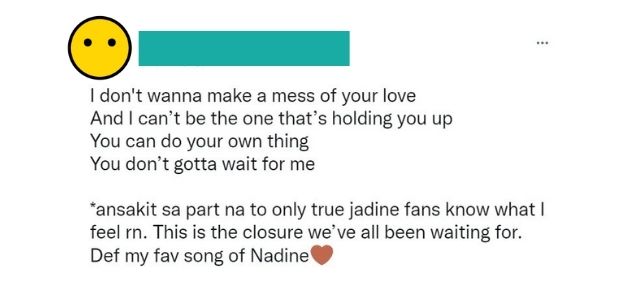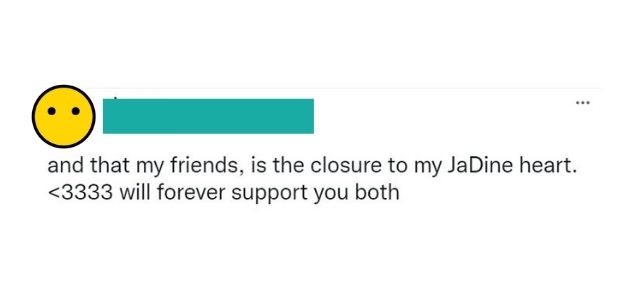 ADVERTISEMENT - CONTINUE READING BELOW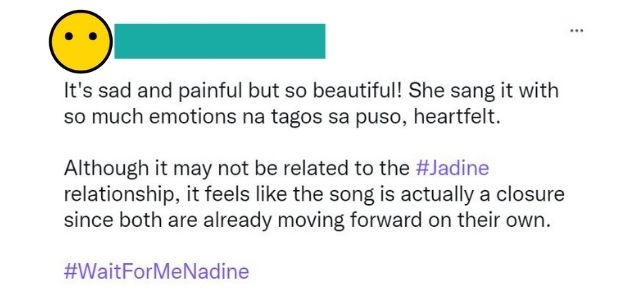 Watch the official music video for "Wait For Me" below: