Confession: I've come to un-ironically love Smash. The musical series is all over the place and everyone's bashing it—even I have—but it's still one of the shows I tear myself away from Candy Crush for. If I don't catch it on primetime, I make sure to get up at 10am on Saturday to catch the replay. I think it's because for every ridonkulous plotline, there's a smashing song number or surprisingly tender moment. And I guess the exceptionally OTT season one has prepped me for the less OTT season two.
So this is me, hoping for the one-in-a-million chance that Smash will be renewed for season three. My two cents' worth:
More of Ivy the comeback star, less of Karen the diva
I've never seen the likable Karen (Katharine McPhee) as Marilyn Monroe even when everyone was singing her praises. It's always been Ivy (Megan Hilty) for me—a sassy yet vulnerable Broadway baby who eats drama for breakfast. So when Bombshell's opening night came, I was extremely happy that it was Ivy in the spotlight. I'm also excited to see more of Karen's Hit List, but I wish she'd drop her fight with her supposed friend Ana. Diva just doesn't suit Karen on- or off-stage.
ADVERTISEMENT - CONTINUE READING BELOW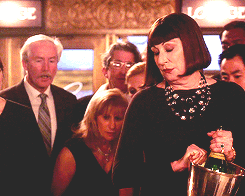 (via smuchshypush.tumblr.com)
Less of Jimmy's dark past, more of the original dark lord. So apparently, Jimmy (Jeremy Jordan) has a drug dealer/user past and his evil brother is Serena van der Woodsen's infamous professor in boarding school! This frustrating twist deserves an Eileen Rand (see GIF above). And who's the original dark lord of Smash, you ask? Derek Wills (Jack Davenport), of course, the douchebag director with a heart.
ADVERTISEMENT - CONTINUE READING BELOW