All Access
Mockingjay Part 1: Katniss's Makeup is a Disaster in This Deleted Scene
We get more of Effie and Haymitch in these two new clips from the movie!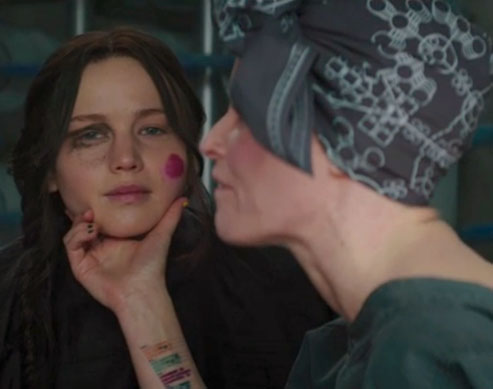 PHOTO Lionsgate
Ahh, don't you just love it when movies finally release their home video versions? In time for the DVD's release, we also get to watch scenes that didn't make it to the final cut. Take for example The Hunger Games: Mockingjay Part 1, which will finally be releasing its DVD version soon. We were able to watch two deleted scenes from the movie and of course, we're sharing them with you!
1 Katniss Everdeen (Jennifer Lawrence) sits through a makeup sesh that's supposed to make her look presentable, but just ends up making her look like a disaster. Who can blame these peeps from District 13 when they probably haven't even touched makeup before, right? Thank goodness Effie Trinket (Elizabeth Banks) comes in this scene and saves the day, taking control of everything. Phew!
2 In this second clip, Haymitch (Woody Harrelson) talks to Katniss about his feelings of not saving Peeta (Josh Hutcherson). You can tell that it's difficult for these two to just brush the topic aside, but you also know they have to so they can focus on the revolution better.
ADVERTISEMENT - CONTINUE READING BELOW
<>Those aren't the only clips that made it to the headlines, though.
MTV News
also revealed a video on what Jennifer does when the cameras aren't rolling while they were working on the movie. Turns out she was freaking out everyone by leaning out from the hovercraft, which wasn't faked and was really shot high off the ground! Watch her talk about that like it was no big deal in this clip. <>
READ MORE:
5 Movies' Deleted Scenes You May Have Missed Watching
The Fault In Our Stars: This Deleted Scene Is Going To Mess With Your Feelings
This Deleted Scene From The Amazing Spider-Man 2 Reveals A Resurrection
<>
The Hunger Games: Mockingjay Part 1
is releasing its Digital HD tomorrow and the DVD/Blu-Ray version on March 6.
Here's a list of amazing, albeit fictional, personalities from another world that inspire us to be our authentic selves.
I will have to say that it is by far one the best decisions I have made in my whole life.
Isa is part of Candy Rookies 2020, a group of influential and aspirational college students handpicked to represent #GenerationCandy in the year to come.
It's the best time to pick up a new hobby and put those notebooks to use.
We can't handle this breakup!
For days when you need an instant outfit inspo that's still campus-appropriate.
It could very well be one of the world's largest volcanoes.
From consistently badmouthing another friend behind their backs to making snide comments sneakily disguised as compliments, here's how to deal with a tricky friendship.
From sisig to bulalo, the North has a lot to offer.
Even college students like us can apply for freelance creative jobs while we're still going for that diploma!
These simple practices, when done consistently, end up being worth a lot.
It can actually *shatter* your cartilage.