All Access
Meet the Band Who Played at #TIMYWeddingGift
Say hello to Oh, Flamingo!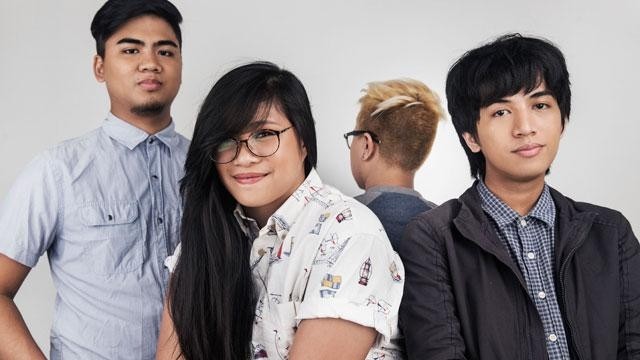 IMAGE Koji Arboleda for Candy Magazine
Who do you get to play at the biggest wedding of the year a.k.a. Iris and Basti's church wedding on Till I Met You? One of the fave bands of the groom—we mean, James Reid—of course! Oh, Flamingo! is the indie-rock quartet from UP Music Circle who broke out with the ridiculously catchy "June," and are also this year's Wanderband winners. If you follow James Reid and his gang on Instagram, you'd know that this isn't the first time their paths have crossed: the band also performed at James's intimate birthday pool party last May.
ADVERTISEMENT - CONTINUE READING BELOW
That's Pappu de Leon (guitar), Bret Jackson (one of James's best friends), Billie Dela Paz (bass), Howard Luistro (vocals and guitar), and behind them must be the elusive Fries Bersales (drums).
Here, the band tells us about their day on the set of TIMY:
Congrats on the TIMY gig! How did it come about?
Pappu: The production team representative called us up last Friday. The representative said that Direk Tonet Jadaone requested for us to play the theme song, "Till I Met You," for Iris and Basti's wedding reception scene on the show. Good thing it was on a Monday because the band members are generally available on Mondays. 
You played at James's birthday party, and now you've guested on his show—very cool!
Billie: James and his best friend, Bret, watched us by chance at one of our gigs at 12 Monkeys (if we remember correctly). A few months later, Bret emailed us an invitation to perform at the surprise birthday party for James that he and Nadine organized, and the rest is history. It was nice being at the party. We met a lot of new people, and we're glad we were able to make new friends. 
ADVERTISEMENT - CONTINUE READING BELOW
#TIMYWeddingGift outtakes featuring Oh, Flamingo!
What was it like being on camera? Who was the most nervous?
Billie: Being on camera wasn't really what made us nervous—it was coming up with two new versions of the theme song on the spot, with only a few minutes to rehearse. The first version was a fast arrangement that the newlyweds could dance to, then we had to transition to a slow arrangement with a duet sung by Kim Molina and JC Santos. We were on our toes the whole time. 
What were some interesting things you observed on set?
Billie: Everything was so fast-paced! They usually aired what they shot on the same day, sometimes the next day if they have the luxury of time. 
December 14, 2016
Pappu: After the shoot, we got to talk to Direk Tonet and found out that in the teleserye industry, being contacted more than a day ahead of the shoot is already a long time. This came as a shock to us because we usually get gigs booked months or weeks in advance. Everything's so fast-paced. We finished our scenes at around 8 p.m. on Monday, and by 10 p.m., snippets of our scene were already shown in the "abangan" part at the end of every episode. I am still dumbfounded as to how they were able to transport the files from the location to the studio almost instantly. Comparing the things we witnessed during the shoot and the final product they showed on air, I'd say that the people behind the scenes are wizards. 
ADVERTISEMENT - CONTINUE READING BELOW
So is this the start of the Oh, Flamingo! x JaDine tour?
Pappu: Sana! I'm looking forward to spending more time with our new friends! Hahaha.
Howard: There aren't any plans related to James and Nadine yet! But we're open to anything. We're hoping to write a lot of new material in the coming year.
Billie: New material, hopefully more gigs, and possibly a full-length album in 2017. Exciting times ahead!
Follow the band @ohflamingomusic on Twitter, Instagram, Facebook, and SoundCloud.
All you need is coffee, hot water, and milk sugar is optional!
What's your best and worst trait as a friend?
Stock your freezer with your all-time Jollibee favorites!
Make the most out of your time in self-quarantine!
It's okay to take it slow.
Are you ready to elect the next Philippine president?
A lot of them are apps we haven't heard of before.
We're sure you've seen portraits on your feed.