We know you've seen her a few times on On the Wings of Love as Angela Stevens, Clark's boss's beautiful daughter who helped him finish his work for Sun and Moon Cafe in Manila. And we know that during those few times, you've secretly hated her. Who wouldn't? She's set to come between James Reid and Nadine Lustre's characters on the show.
We got to chat with the actress who plays the role via e-mail recently, so you can formally meet the person behind the much talked about role on the show. Meet Ysabel Ortega, the lovely 16-year-old who's deadset on being this year's favorite scene-stealer.
1 What were you busy with before you joined On the Wings of Love?
"Before On the Wings of Love, I was a full time student. Up to now, I still am."
2 How did you get the role of Angela on the show?
ADVERTISEMENT - CONTINUE READING BELOW
"I went on a go-see with my manager, Tito Ogie, along with his other talents. We went to Dreamscape and we introduced ourselves one by one. I was asked to sing and give a brief background about myself and my acting experiences. Shortly after the go-see, I found out that I was chosen for the role of Angela Stevens for the show."
READ: The New Scene-Stealers: Female Young Stars You Should Keep an Eye On This Year
3 How did you prepare for your role?
"I just tried to understand who Angela really is and put my heart into her character."
4 What's in store for Angela on the show?
"As of now, all I can say is that you will be seeing her again pretty soon. ;)"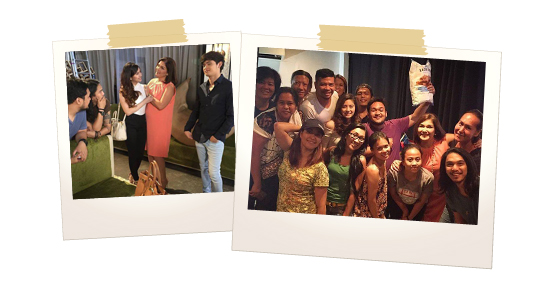 5 How did the cast, especially James Reid and Nadine Lustre, welcome you on the show?
"They were all very nice to me, and I felt right at home."
READ: From Our Sister Sites: How Do You Feel About #OTWOL's Angela?
6 How do you deal with people hating on you because of your role?
"When it comes to bashers, what I love about OTWOListas is that they just bash the character. I completely understand why! But to be honest, I find it a good thing for Angela to receive some hate because that just means that I was able to portray my role effectively as a third party for JaDine's love team. That's how it's supposed to go, that my character would stir things around a little. But for me as an actress, the show's fans really welcomed me well as part of OTWOL."
7 What's your most memorable story/moment on set?
"My most memorable moment on set was when I fell flat on my face! I was wearing 5-inch heels and wasn't really used to them. I'm just 16 and I always wear sneakers and flats. It was a huge adjustment especially since Angela is already in her early 20s.
ADVERTISEMENT - CONTINUE READING BELOW
"I tripped on a wire back then while walking and I was completely mortified when I fell! What was funny also was that one of the people who was supposed to help me get up also slipped and fell on my back while helping me. Nadapa na nga ako nadaganan pa! Haha! I can say that that is not only my most memorable moment on set, but also my most embarrassing one!"
8 What are the last three selfies on your phone?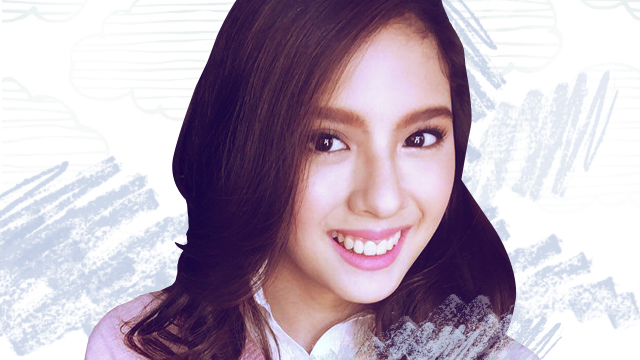 ADVERTISEMENT - CONTINUE READING BELOW
"I was at a photo shoot on this day and I just felt the urge to take a selfie."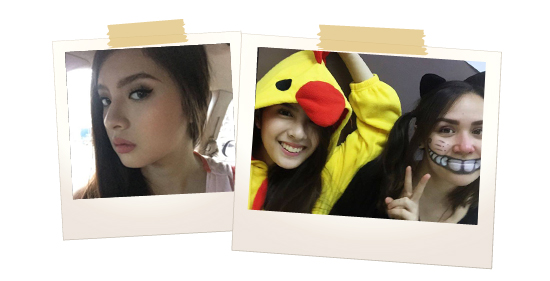 "The next one was during the #KapamilyaKrismas3 event in Trinoma. I did my own makeup and I was so happy because it actually looked okay. The last one was during Halloween. I dressed up in a chicken onesie. It was so funny because I had to sing 'Hello' by Adele that day as a part of our program. I couldn't take myself seriously. Haha!"
ADVERTISEMENT - CONTINUE READING BELOW
READ: #OTWOLHotseat: 3 Relationship Lessons From Leah's Dad That We Should Keep In Mind
Catch Ysabel as Angela Stevens on On the Wings of Love, weeknights after Pangako Sa 'Yo on ABS-CBN.