The Pretty Little Liars star and Candy cover girl recently announced on Twitter that she signed a record deal with Hollywood Records. Pretty cool since she just turned 23 yesterday! We couldn't think of a better gift for this talented young lady.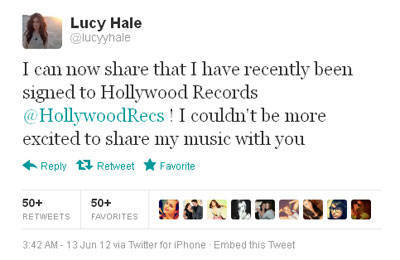 If you didn't know, Lucy actually joined American Juniors back in 2003. In her audition video, her mom says, "I think 10 years from now, everyone will know Lucy's name." Well, momma Hale, looks like you don't need to wait another year.
ADVERTISEMENT - CONTINUE READING BELOW
She also mentioned that her music is going to be different from anything you've ever heard from the label and not what we'd expect from her.
What do you think her record will sound like? So it probably won't be a like her songs on A Cinderella Story: Once Upon A Song. Or the songs she performed on American Juniors. What does that leave us with? Leave a comment with your guesses on what genre her music will fall under!