LDRs often require a lot of creativity, and of course, our fave celebs and industry folk take it to another level. It was both a moment of kilig and fangirling for actress Lovi Poe when she woke up to the sweet message of her British boyfriend, Montgometry "Monty" Blencowe.
The sweet message was in a video, but the person speaking in the video was none other than Enrique Arce, Lovi's favorite Money Heist actor.
Talk about grand gestures.

On Friday, April 17, on Instagram, Lovi posted the video message made by the 47-year-old Spanish actor.
Apparently, Enrique did the video because Monty had asked him to do it for his love.
Lovi's caption read: "I woke up to this. Better than flowers or chocolates, Bubba! [heart emoji] Swipe left! [screaming face emoji] @montyblencowe @lacasadepapel @enriquearceactor"
In the video, Enrique introduced himself as Lovi's favorite character in the popular Netflix series, then proceeded to relay Monty's message to the 31-year-old actress.
ADVERTISEMENT - CONTINUE READING BELOW
Enrique: "Hey, how are you, Lovi?
"This is Enrique Arce. Arturito in Money Heist. La Casa de Papel.
"Yeah, that character that you love so much.
"You know why I know that? Monty told me."
Monty is a Los Angeles-based British movie producer and medical scientist whom Lovi has been dating for months now.
ENRIQUE TO LOVI: "MONTY MISSES YOU A LOT"
Enrique proceeded to say that Monty missed Lovi so much, and wanted to see her much more than Monty wanted to see the fifth season of Money Heist.
"He said that he loves binge-watching the show with you. He's waiting for the season 5 to see it with you also," Enrique added.
"And he misses you a lot. Poor guy, he misses you a lot and really wants to see you soon. He wants to see you soon more than he wants to see La Casa de Papel 5.
ADVERTISEMENT - CONTINUE READING BELOW
"Make a note of that. All right, Lovi? Big kiss. Bye."
Lovi also shared clips of Enrique's video message on her Instagram Stories.
She wrote in the caption, addressing Monty: "A MILLION MILES AWAY YET YOU NEVER FAIL TO MAKE ME FEEL KILIG... I MISS YOU TOO."

Here is the love messenger Enrique Arce:
ADVERTISEMENT - CONTINUE READING BELOW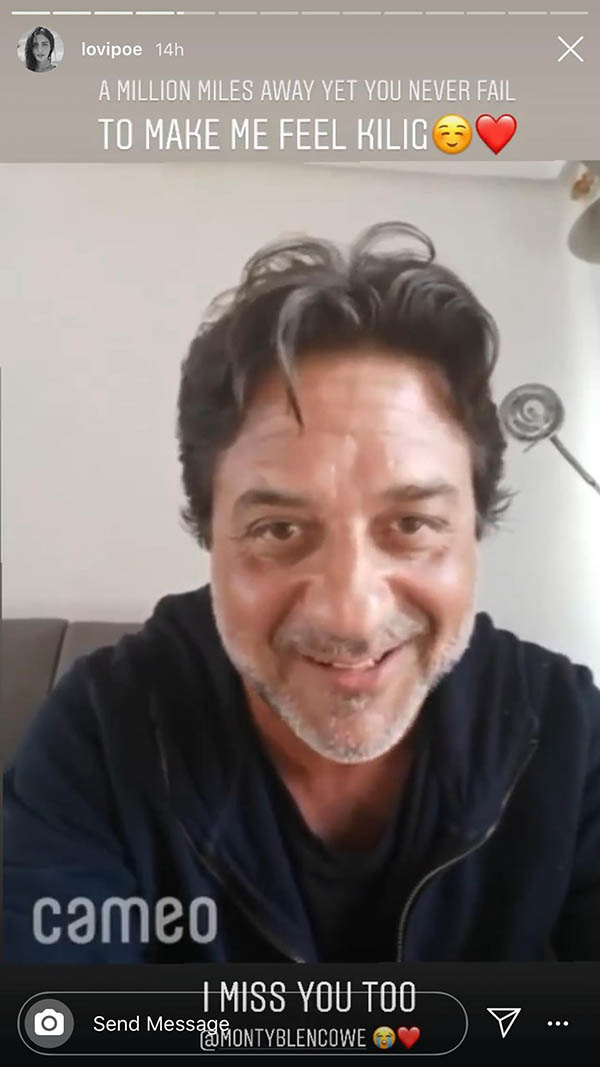 Money Heist revolves around professional thieves who make a profession and a passion out of breaking into key Spanish buildings, including the Royal Mint of Spain.
Enrique plays the character of Arturo "Arturito" Roman, the general director of the Royal Mint of Spain who eventually becomes one of the thieves' hostages.
ADVERTISEMENT - CONTINUE READING BELOW
Season 4 of Money Heist was released April 3. Expected release of Season 5 fifth is April 2021.
This story originally appeared on Pep.ph.
* Minor edits have been made by the Candymag.com editors.