So, you've probably seen Enola Holmes by now, and we know you loved it. The story of Sherlock Holmes' younger sister and her quest to find their mother is both adorable and empowering! Along the way, Enola, played by Millie Bobby Brown, meets a young lord who loves flowers and treehouses: Viscount Tewskbury, Marquess of Basilwether, aka Louis Partridge. Their chemistry was so obvious onscreen, and it's safe to say that Louis is everyone's new fave young actor. Here, we gathered eight must-know trivia about the British teen:
1. How old is he, exactly?
A quick Google search tells us that Louis was born on June 3, 2003 (YES, 2003!) which makes him 17 years old. Louis reportedly grew up in London, England, and is actually still in school.
2. Where have you seen him before?
He fell in love with acting at the age of 12! Louis appeared in the film Paddington 2 (2017) and in the Warner Bros. fantasy movie Pan (2015). Louis also stars in the historical series Medici: The Magnificent as Piero de Medici. It's available for streaming on Netflix!
ADVERTISEMENT - CONTINUE READING BELOW
3. He was actually studying for exams while auditioning for Enola Holmes.
In an interview with Glamour, Louis said that "the audition process was very long and quite stressful." He added: "After my last audition, I waited about three weeks and meanwhile I was doing my GCSE's. I was revising and my focus was shifting to the job. I found out I got it on the day of an exam that I was doing. I was just so over the moon I just completely messed up the exam, but I mean, it was completely worth it."
4. He's also excited about a possible sequel!
Louis told MTV: "I think Tewkesbury would quite like to meet Sherlock; I think that would be quite interesting...I think they left the relationship between Enola and Tewkesbury so up in the air that I think there's so far for it to go...but that's just me!"
ADVERTISEMENT - CONTINUE READING BELOW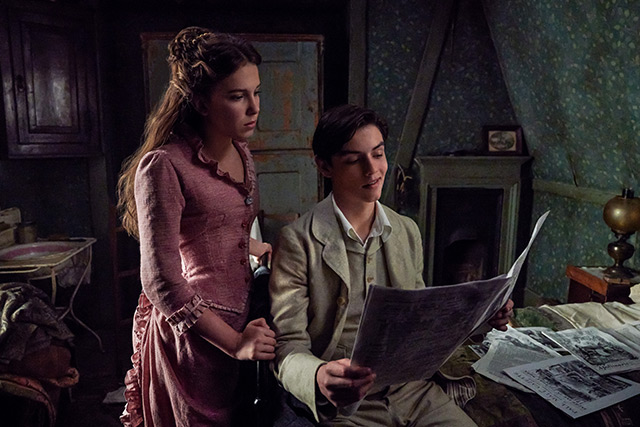 5. Aww, he's been heartbroken before.
In a video for Seventeen, Louis told Millie that he has experienced heartbreak, although he didn't go into detail, LOL.
6. Okay, so Louis hadn't seen Stranger Things at the time of filming!
When talking about their chemistry onscreen, Louis shared: "I would spend as much time as possible with Millie outside of filming. I think that really helped build this relationship that existed off-screen, that we could then bring onscreen. It was quite surreal at times. I hadn't seen Stranger Things, which helped me because I didn't see her and think, 'It's Eleven!'"
ADVERTISEMENT - CONTINUE READING BELOW
7. His next project is a fantasy film called The Lost Girls.
According to Deadline, The Lost Girls will "chronicle four generations of Darling women as they struggle in the aftermath of their adventures with Peter Pan in Neverland." Louis will play Peter Pan himself! The film is expected to be released in 2021.
8. Where can we find him on social media?
At present, you can follow Louis on Instagram, @louispartridge_. The actor is also determined to use his platform for the greater good. He told Glamour: "I never really been one to speak politically at all, not that I shy away from it, but I wouldn't post about it. But now that I've got a platform, I'm fortunate that I can share what's going on. I feel like I have a duty to do that because I might share, one person sees it and then shares it on it becomes a snowball effect, which I think is super important. I have always looked up to people who did that. So, I'm lucky that now I'm in that position for some people."
ADVERTISEMENT - CONTINUE READING BELOW
***
We're officially on Viber! Be part of our growing community and subscribe to Cosmopolitan Philippines now!
Follow Lily on Instagram.
This story originally appeared on Cosmo.ph.
* Minor edits have been made by the Candymag.com editors.