Leila Alcasid has opened up about her battle with an eating disorder.
On Wednesday, April 7, 2021, the 23-year-old daughter of Ogie Alcasid posted a selfie on Instagram and expressed how proud and confident she is now of her body.
But Leila said her journey to self-love was a rough one.
She said in her caption (published as is), "Just wanted to share a little something [emoji] I am very slowly learning how to be kind to myself and my body, and it's the most wonderful feeling.
"Over the last few years I've received lots of messages asking about my weight loss and how I managed it, and I never really knew how to answer.
"I have a long and frustrating history with an eating disorder, and was never quite able to look at my body with kindness and love.
"Always trying intense diets and depriving myself rather than providing the nourishment I really needed.
ADVERTISEMENT - CONTINUE READING BELOW
"I could never give a proper answer as to how I lost weight, because I didn't want anyone else to be so cruel to themselves.
"My weight has fluctuated greatly over the last 5 years and it has ultimately ruled my life."
View this post on Instagram
Leila added that the comments of people about her body really took a toll on her health.
"People would comment on it both in life and on social media, and I was constantly told I wasn't thin enough, even when I was eating so little.
"I allowed the opinions of others to have such a grip on me, and it was incredibly damaging."
Nonetheless, Leila eventually learned to love the skin she's in and now feels more confident of her own body.
She said, "Now, I am at a place where I can say I love my body regardless of the bumps, curves, and stretch marks.
ADVERTISEMENT - CONTINUE READING BELOW
"I move to feel strong, and eat to feel nourished. I still struggle, like anyone else, but I'm working on it and I'm proud of myself [emoji]."
Towards the end of her post, Leila left a word of advice to her followers.
"To anyone who looks at instagram photos and can't help but compare, don't feel down. Remember that you are strong and beautiful [emoji] Life is too short [emoji]"
LEILA'S FAMILY AND FRIENDS RESPOND WITH LOVE
The comments section of Leila's post was filled with so much love and support from her closest friends and family, including her mom Michelle Van Eimeren.
Michelle told Leila, "My darling Leila, I have watched you battle through the ups and downs, and I have always been so grateful and proud of your tenacity to never give up.
"You are a beautiful young woman, I love you so very much [heart emoji] there is so many good things in your life and so much to look forward to, continue being kind to yourself [heart emoji]"

ADVERTISEMENT - CONTINUE READING BELOW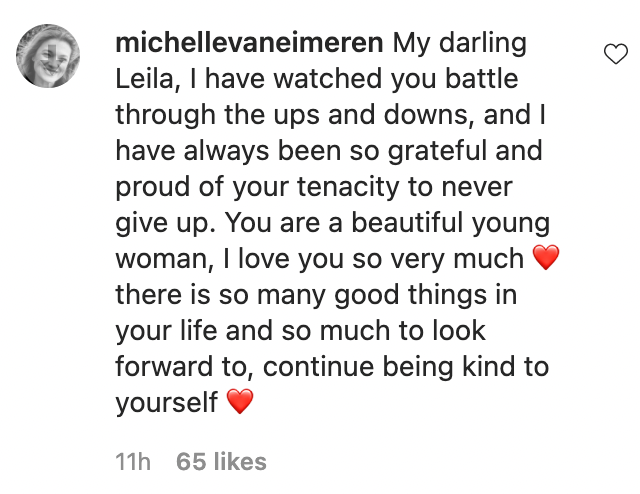 Regine Velasquez also left a comment and expressed how proud she is of her stepdaughter.
Regine wrote, "No matter what other people say to us both your moms and dads YOU ARE THE MOST BEAUTIFUL WOMAN not just on the outside but most importantly on the inside.
ADVERTISEMENT - CONTINUE READING BELOW
"Proud of who you have become we love you to the moon Australia Philippines and back."
Leila's boyfriend Mito Fabie, also known as Curtissmith, wrote, "GLOW UP HELLOOOOO [plant emoji]"

ADVERTISEMENT - CONTINUE READING BELOW
Actress Iza Calzado commended Leila for opening up about her self-love journey.
Iza wrote in the comments section, "I love this so much and I am incredibly happy to see you in a good place. Cheers to our amazing bodies and everything it does for us! [white heart emoji]"

ADVERTISEMENT - CONTINUE READING BELOW
Other celebrities who showed their support for Leila were Frankie Pangilinan, Tim Yap, Gabbi Garcia, Hannah Pangilinan, Lou Yanong, and Maureen Wroblewitz, among many others.
This story originally appeared on Pep.ph.
* Minor edits have been made by the Candymag.com editors.