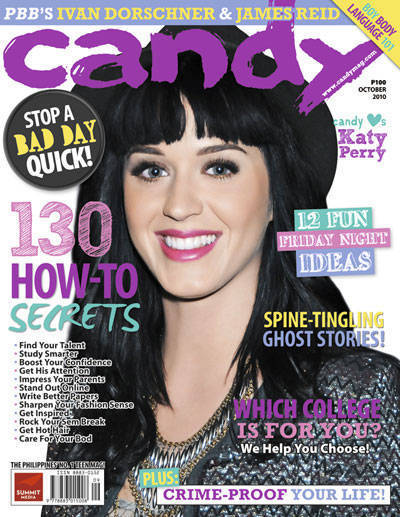 For October, learn to do everything better with 130 How-To Secrets! Check out what you'll be learning from this issue:
Find your talent
Study smarter
Boost your confidence
Get his attention
Impress your parents
Stand out online
Write better papers
Sharpen your fashion sense
Get inspired
Rock your sem break
Get hot hair
Care for your bod
...and more!
You'll also learn how to stop a bad day quick, get 12 fun ideas to do on a Friday night, and how to crime-proof your life.
Are you in high school but dreading college? Well, we'll help you choose the college that's right for you!
If you're not yet headed out the door to buy your own copy of this issue, maybe PBB Teen Clash of 2010's Ivan Dorschner and James Reid will make you?
Candy's October issue with Katy Perry on the cover is out now!