I guess we now know what Kathryn Bernardo, our box office queen, does during her free time. Aside from being a fur parent, she also spends her time reading. She shared a very cute and innocent picture of her reading with her dog on Instagram. She even captioned, "Too cute not to post!" Based on her post, she is currently reading Verity by Colleen Hoover.
ADVERTISEMENT - CONTINUE READING BELOW
This post caught not only our attention but Colleen Hoover's, as well! She shared Kathryn's post on her Instagram story today.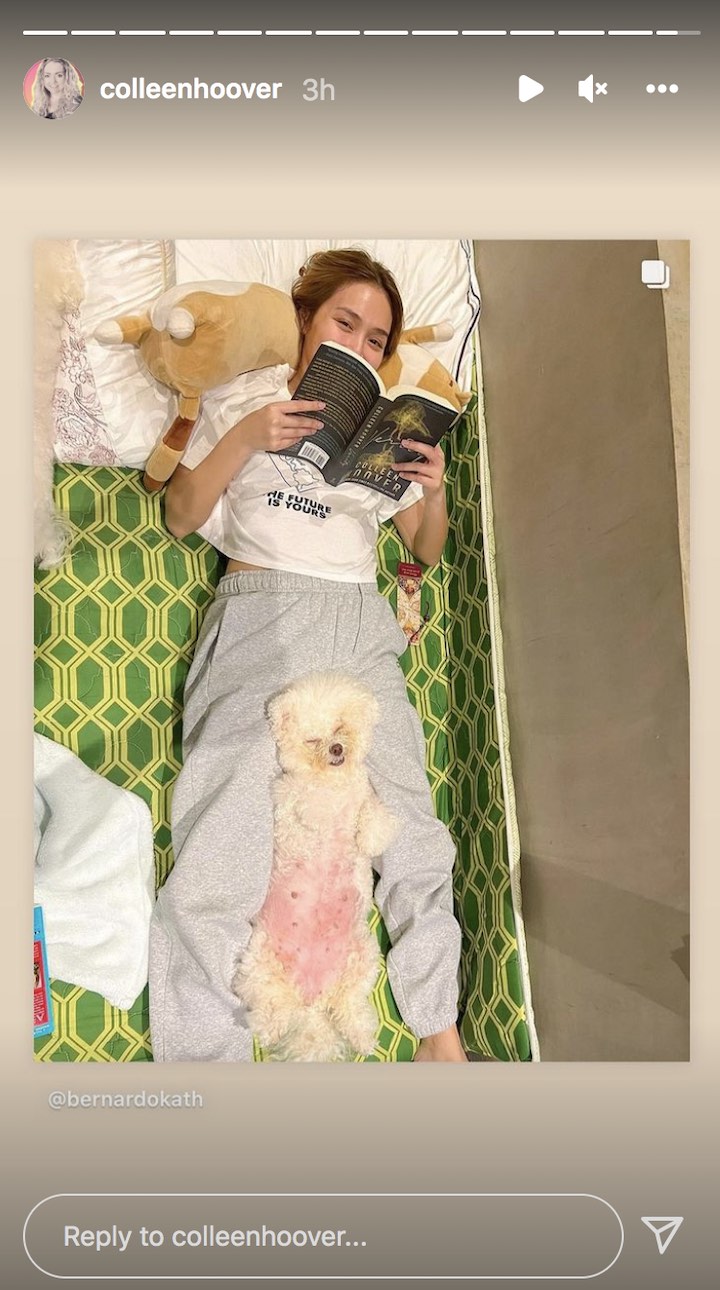 If you look Colleen Hoover up, you'll find that she is the #1 New York Times bestselling author of Slammed, Hopeless, Ugly Love, Confess, November 9, and It Ends With Us, to name a few.

As mentioned earlier, Kathryn is reading Verity. The story revolves around Lowen Ashleigh, a struggling writer who accepts the job of completing Jeremey Crawford's wife, bestselling author Verity Crawford, unfinished books, and in doing so, she stumbles upon an unfinished autobiography filled with frightening admissions of the wife. As Lowen grows closer to Jeremy, she begins to ponder whether she should reveal the manuscript and the secrets it holds to him or keep it to herself.
This is a psychological romantic thriller book—perfect for our romance and thriller-loving bookworms! It's not the usual type of romance novel you may be used to if you've read her past books. But it will definitely leave a mark on you like all of her previous ones. You still get the romance you are looking for with more edge. If you are usually the type of person into psychological thriller books, this might be a good book to start with by Colleen.

ICYDK, it isn't the first time Colleen interacted with Kathryn's post. Earlier this week, Kathryn shared a post on Instagram in a onesie while holding the book, It Ends With Us. She writes, "Yup, IYKYK! I'm wearing a onesie to honor this beautifully written book! It's been a whole day since I finished reading this yet I still haven't been able to move on. Same feels as yesterday: FRAGILE AND SPEECHLESS. This book definitely took us on a rollercoaster ride of emotions. HOW WILL I EVER GET OVER THIS? This is a gem, @colleenhoover. Naked truth? We both ugly cried. Swipe left." 
ADVERTISEMENT - CONTINUE READING BELOW
Colleen commented with a purple heart, thanked her, and complimented her on her onesie. Awww, how cute is their interaction?
To know more about Colleen Hoover and her best-selling books, check out her website!