Just like any other celebrity, Julia Barretto has been the subject of so much hate from people who just can't seem to find the time to be nice online. But even in the midst of tweets and posts that attack her, the Star Magic artist continues to stay classy and rise above these nasty comments. 
Recently, for example, someone commented on her Instagram page about how she's just the second choice for the movie Vince and Kath. 

Instead of lashing out and ranting about haters, Julia directly addressed the commenter and told her how she felt about the issue.
ADVERTISEMENT - CONTINUE READING BELOW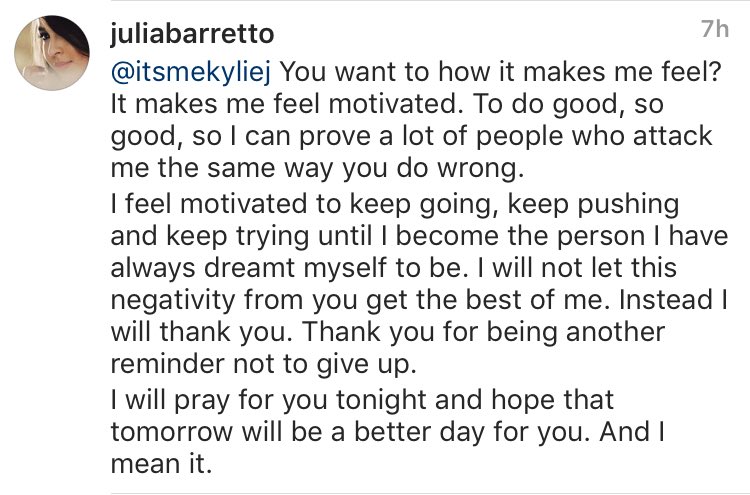 Before this, in 2015, Julia faced haters and bashers when a video of her snubbing her fans in London came out. Some netizens were quick to judge and jump into conclusion that she didn't really love her fans. But instead of getting mad over them online, Julia shared her apologetic words on Instagram wherein she also acknowledged her mistake.
ADVERTISEMENT - CONTINUE READING BELOW
In tough times like these, it's very easy to lose your temper and then blame your haters on why you got mad. But most of the time, not stooping down to their level is the best way to go. Sometimes, these haters are just seeking for attention. They just want to prove their point that they were right all along, that you're going to get your hands dirty just to get back at them. So don't. Rise above the situation and let them do their thing. Address them and their questions and accusations, but they're not worth losing your temper for.
ADVERTISEMENT - CONTINUE READING BELOW
Got advice to help fellow Candy Girls deal with online hate gracefully? Leave a comment below or tweet us @candymagdotcom. We always love hearing from you. :)