Being in the company of good friends and "finding your people" are important—but somewhat rare—in life. So if you were lucky enough to find people you resonate with and vice versa, it's important to celebrate for having them in your life. Joshua Garcia did exactly that and shared an appreciation post for his friends on Instagram!
Tagging them one by one in a series of candid photos taken at the beach, the 23-year-old actor shared a touching message for the gang, namely Kathryn Bernardo, Daniel Padilla, Sofia Andres, Daniel Miranda, Ria Atayde, Pat Sugui, and Aeriel Garcia. According to Joshua's post, they helped him get through dark times and saved him from "drowning in loneliness." In his post, Joshua's full message reads, "These beautiful people saved me from drowning in loneliness. Surround yourselves with positive energies during these times, my friends, because there are days in our lives that we all need to swim on our own. I am missing the sun and the gang."
ADVERTISEMENT - CONTINUE READING BELOW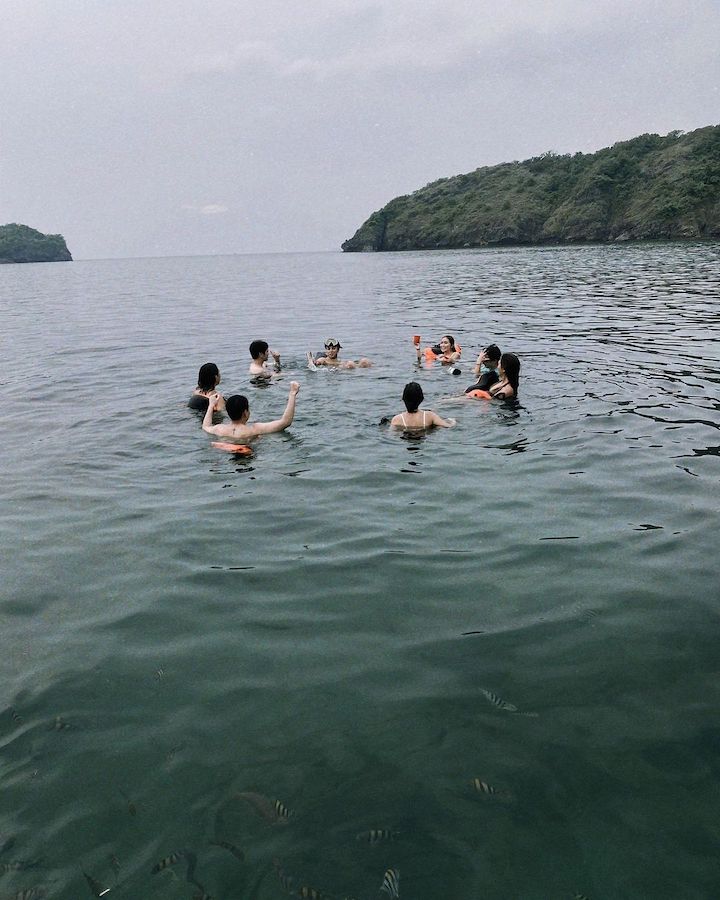 Ria responded in the comments section, saying, "Same. I feel you. Def looking forward to more memories and moments with all of you!" Kathryn replied saying she's excited for their next barkada trip, while Sofia left emojis in the comments.
Apart from the warm comments from his friends, Joshua also received a flood of positive response from his followers and fans. Most people were saying how happy they are for Joshua for being in good company and being with the right people.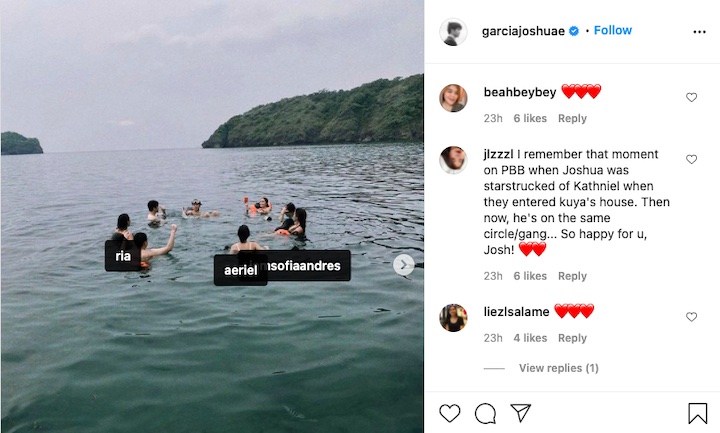 Long-time fans reminisced about that time KathNiel entered Bahay ni Kuya while Joshua was still a housemate and commended him for how far he's come. Others simply said Joshua "deserved" to be in the company of good friends who support him and have his back.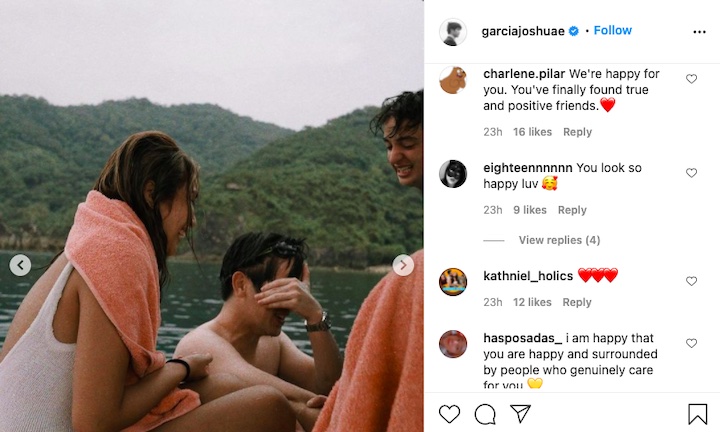 ADVERTISEMENT - CONTINUE READING BELOW
In 2016, Joshua got to work with Kathryn and Daniel in the film Barcelona: A Love Untold. In 2019, a notable interaction between Joshua and the couple surfaced in news reports when Kathryn and Daniel reportedly joined him at his table while he was eating alone during an ASAP after party in the U.S. In February 2021, Joshua was spotted in badminton sessions with Kathryn, Daniel, and close family and friends of the two. Now, it seems that Joshua's spot in KathNiel's squad is official, and fans can't wait for more of their genuine bond.
READ MORE:
Sofia Andres Names Closest Friends in Showbiz, Talks About Keeping Your Circle Small
Daniel Padilla Doesn't Regret Dating Kathryn Bernardo at a Young Age
Here's Where Kathryn Bernardo, Ria Atayde, and Friends Took Pottery Lessons
These Are Kathryn Bernardo's and Sofia Andres's Dream Jobs if They Weren't an Artista