We think Jennifer Lawrence is the most hilarious actress in Hollywood. You can contest that, but we still feel that way about this darling.

At the recently-concluded 20th Screen Actors Guild (SAG) Awards, JLaw proved to be the funniest girl ever with her hilarious remarks and weird faces, which have fortunately been caught on cam and are now going viral on the Internet! And while we wait for the memes that are surely coming, here are our three favorite "JLaw being JLaw" moments at the SAG!

During her interview with E! Network, Jennifer got so conscious about her "armpit fat" that it wasn't able to escape her during the conversation! Armpit fat or no armpit fat, she still looks every bit the movie star we love.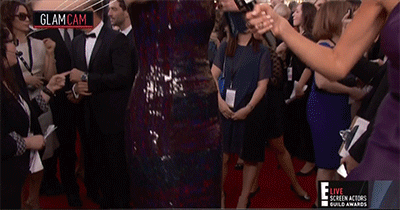 via mattgifs
ADVERTISEMENT - CONTINUE READING BELOW
Who's to blame for that Taylor Swift photobomb image of her? Yes, Jennifer found the "culprit" during the SAGs!
ADVERTISEMENT - CONTINUE READING BELOW
Like a normal human being, Jennifer is also worried that the world's going to get tired of her crazy antics and find her annoying. We'll never get tired of her, though. That we're sure of.
And for your perusal, here are a few of the weird faces this lovely actress made during the awards night. You're welcome!
ADVERTISEMENT - CONTINUE READING BELOW

via jessipinkman.tumblr.com
What is your favorite SAG moment? Tell us by commenting below or tweeting us @candymagdotcom!