Candyrectioners (okay, we're not sure if this is a thing yet, but it should be, right?), we're pretty sure you've been up all night waiting for the big announcement. There have been rumors about One Direction heading to Manila forever, but nothing has ever been confirmed until now.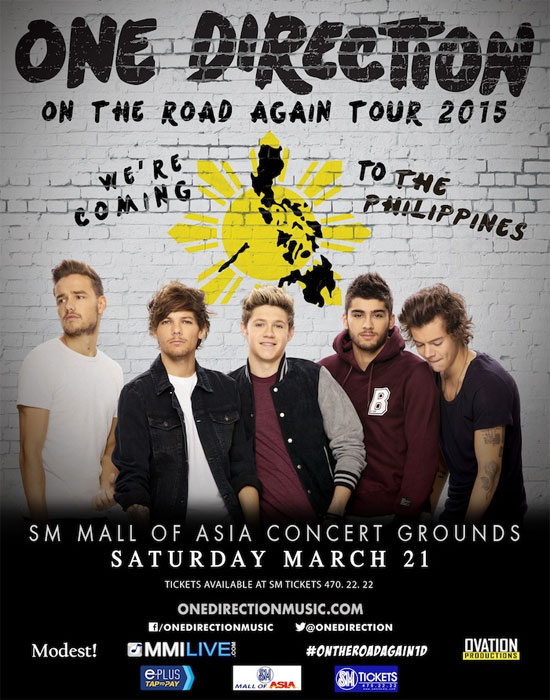 Here's what we know: The concert is slated for March 21 next year and it'll be at the SM Mall of Asia Concert Grounds. There are no ticket prices on the concert poster, but it says that "tickets available at SM Tickets 4702222." We tried calling the hotline, but the SM Tickets office is still closed as of press time. Their website is also currently down. We'll be checking throughout the day and keep you posted in case we hear anything about ticket prices. Right now, we're just super psyched that this is actually happening! Best. Day. Ever.
ADVERTISEMENT - CONTINUE READING BELOW
What songs are you excited to hear live? Are you already spilling out the contents of your piggy bank to see if you've got funds for the show? Let's all flail together!
EDIT (8:52am):
There will be a launch on May 23, 8:00 am onwards, at MOA Arena to kick off the ticket sales. Ticket prices are (via SM Tickets):
a. VIP (reserved seating) P17950
b. Diamond (reserved seating) P14800
c. Titanium (free seating) P7450
d. Gold (free seating) P3775
e. Silver (standing) P2200
f. Bronze (standing) P1150
Priority will be the first 15,000 arriving at the venue on May 23. Tickets will be available online and all ticket outlets at 2pm onwards. There will be no ticket reservation.