All Access
Imagine What You Could Do If You Could Go Inside Descendants of the Sun
The possibilities are endless.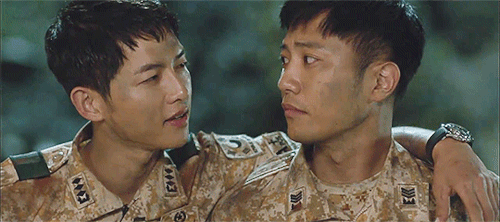 IMAGE KBS | laara41.tumblr.com
Picture this: you're watching your latest K-drama obsession (a.k.a. Descendants of the Sun), screaming at Si Jin and Mo Yeon to just kiss, when you suddenly get sucked into your screen and into their world, where you magically have the power to help them get to that point of the first big kiss (which as you know in K-dramas is everything).
That's what we were thinking as we watched Dramaworld, a show on Netflix about fangirl Claire Duncan who's magically transported to her favorite K-drama, A Taste of Love. It's hilarious and relatable—Claire is basically all of us and Claire's dad is the rest of the world—and had us thinking of all that we could see and do if we ever get to hang out with Si Jin, Mo Yeon, and the rest of the gang—if only reality wasn't in the way!
Experience Si Jin directly smiling at us and try not to swoon.
ADVERTISEMENT - CONTINUE READING BELOW
See this cool trick in person... and maybe mess up Si Jin's game!
Catch Si Jin so he doesn't fall on the pavement—but into our arms, haha! (We love you, Mo Yeon, and we come in peace!)
Walk out the hospital with Mo Yeon and have this vision waiting for

us

her.
Tease the heck out of them when they have too much to drink and accidentally DTR in front of their friends and family.
Bear witness to the bromance of these two.
Help out Big Boss and Wolf during this intense interrogation… or not! More fun to watch them squirm!
Also fun to see the tables turn.
Help out with their missions and relief efforts. Pretty sure they could use an extra hand!
Or not—we could just sit on the sidelines and watch them do their thing.
Join this sneaky squad.
Take Chi Hoon out of his misery and tell him that what this little kid really wants (what he really, really wants) is a goat.
Literally take the wheel here. LOL, we were too preoccupied by this monumental moment to notice that the car was driving itself!
See these moves in person.
Also these, um, moves. Aww, jealous Si Jin is the best!
We could go on and on, but we'd rather know: what would you do if you get sucked into Descendants of the Sun or your fave K-drama?
From consistently badmouthing another friend behind their backs to making snide comments sneakily disguised as compliments, here's how to deal with a tricky friendship.
From sisig to bulalo, the North has a lot to offer.
Even college students like us can apply for freelance creative jobs while we're still going for that diploma!
These simple practices, when done consistently, end up being worth a lot.
It can actually *shatter* your cartilage.
Bordeos becomes meat of online talk while helping out in family's meat business.
From her gowns down to the décor and food!
Trish is part of Candy Rookies 2020, a group of influential and aspirational college students handpicked to represent #GenerationCandy in the year to come.
The more ~chill~ spots around UST might be more of your scene.
Bea is part of Candy Rookies 2020, a group of influential and aspirational college students handpicked to represent #GenerationCandy in the year to come.
This list compiles the city's tried-and tested music recording studios you'll want to check out.
Students from Humanities courses speak up.