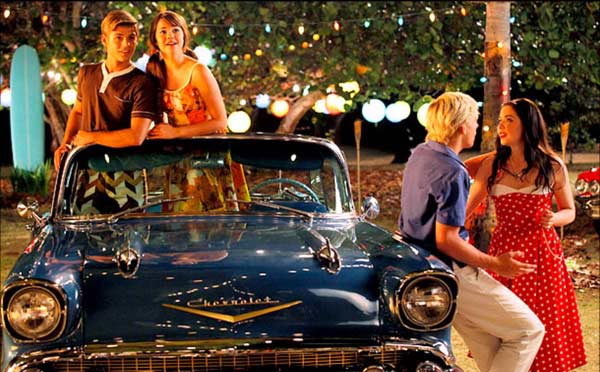 If life were a (Teen Beach) movie, we'd...
Ride a 40-foot wave and end up being transported into our favorite movie.
Sing in chorus at the drop of a hat (or a coin into a jukebox).
Wear dizzyingly color-coordinated costumes with our friends.
Change outfits in a snap but have absolutely no control over said outfit.
Dance on top of chairs and tables and rock formations like it's the easiest thing in the world.
Forget little tiffs after a song number.
Prove once and for all that April Young is omnipresent.
See for ourselves how cute April Young—sorry, Grace Phipps can be. "Oh, bonkers! Are you two together? I would never take another girl's boy. That would be stealing, and he would probably be very hard to return."
Literally fall for knights in shining board shorts (and teeth).
Have very loud confidential conversations right beside the people we're talking about, without them noticing.
Get away with this line: "Do you mind if I join you?" "'Course not. I'd want to join me too."
Be honest. "Sometimes I talk low for effect." Oh, Tanner.
Get our pick of gorgeous beach waves or perfectly coiffed hair any time we want.
Have stages magically appear for—what else?—an impromptu song number.
Twirl around wherever, whenever with zero judgment.
Have sleepovers in fluffy PJs every night.
Avert a disastrous fight with one well-placed tear.
Defeat the nefarious plan of the villain with one well-placed hairpin.
Poke fun at stereotypes. "Why does she need a boy to be happy?" "Oh, I don't know—it's 1962!"
Catch replays of Teen Beach Movie on Disney Channel.
ADVERTISEMENT - CONTINUE READING BELOW
ADVERTISEMENT - CONTINUE READING BELOW