All Access
If I Stay: 7 Unbelievably Cool Things Mia's Parents Did
They're rock stars through and through.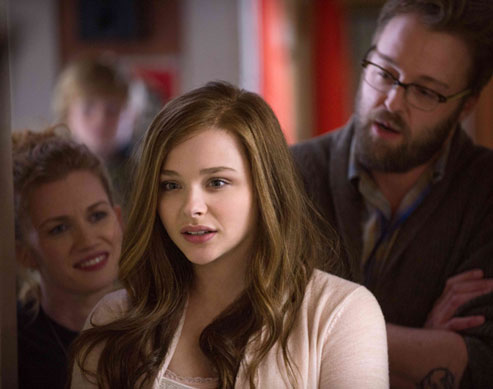 PHOTO Warner Bros. Pictures, GIFs via Tumblr
If you've seen the book-based movie If I Stay, you probably found yourself thinking about Mia's insanely hip and chill parents. The mosh pit soul mates are like a couple of teenagers playing house and raising two kids. You'd expect Mia to grow up a modern-day riot grrrl, but nature and nurture have conspired to give her a tendency toward structure, which manifests maybe the most in her love for the cello.
As a tribute to Kat and Denny Hall, two of the most hipster parents to exist in literature, here are a few of their unbelievably cool parenting moves. May they (spoiler alert?) rest in peace.
1. When they recognized and nurtured Mia's innate talent for playing the cello from the very beginning. Her punk rocker dad even sold his beloved drum set to be able to buy a cello for her.
ADVERTISEMENT - CONTINUE READING BELOW
CONTINUE READING BELOW
Recommended Videos
2. When they raised Mia and her little brother on old school musicians Alice Cooper, Iggy Pop, and the rest of the gang.
3. When Mia told her mom about how she wanted to, um, "lick the side of Adam's face" and her mom didn't blow her top. She simply said, "Oh... baby." (Granted, what could a mom say to that???)
ADVERTISEMENT - CONTINUE READING BELOW
Some eagle-eyed Candy Girls have commented that Mia actually said this to her best friend, not her mom. Sorry about that and thanks for leaving a comment!
3. When Mia's mom only had to take one look at her devastated daughter for her to know that something was up and then proceed to throw everyone out of the room for a heart to heart with her baby girl.
ADVERTISEMENT - CONTINUE READING BELOW
4. When they were convincing Mia to have fun with them on snow day and her dad spoke this truth: "Honey, guilt and bribery are the glue that have held parents and teenagers together for generations. Don't fight tradition."
5. When they hosted a rip-roaring house party that had free-flowing food, good music, and even a bonfire. A bonfire that had their daughter and her boyfriend kicking off a good ol' campfire sing-along.
ADVERTISEMENT - CONTINUE READING BELOW
6. When they accepted and even approved of Adam's rock star lifestyle and party-hard friends. "She shouldn't be scared to hang out with those guys—they're us," Mia's mom says. Her dad knowingly replies, "Exactly."
ADVERTISEMENT - CONTINUE READING BELOW
87. When they were huddled behind the front door as Adam was dropping her off and they gleefully shouted at her to stay out with him some more. If I were Mia, I'd be all, thanks ma and pa, but eavesdropping on me and this boy that confuses me? Not cool! Well at least we know they're capable of at least one "annoying" parent-ism!
ADVERTISEMENT - CONTINUE READING BELOW
If I Stay is now showing in cinemas.
Meet May Myat Noe, the model who caught the envy of PSJ fangirls.
Here's what to watch on Netflix while we patiently wait for "Crazy Rich Asians 2."
In case you can't help but admire the clean and customizable aesthetic of iOS 14.
According to THE's 2021 World University Rankings.
That beautiful crown is the cherry on top of many wonderful things.
Pura Villanueva Kalaw was a beauty queen, suffragist, journalist, and much more.
Color coding your notes is also a ~fun~ way to spice your study sessions.
Do you have a favorite student vlogger?
They fit the budget and still do the job.
Mateo graduated high school from the Saint Candida School in Iloilo.
It's a slap in the face when the person who eagerly swept you off your feet suddenly goes floating away.
From The Candy Bulletin Community