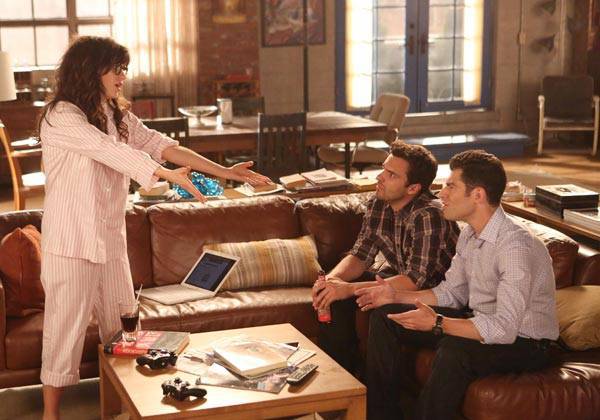 I don't need an intervention, you guys!
So it's finally your summer break, and you're ready to hibernate with all the episodes you had to give up during hell week month. Hold up, though—there is an art to marathon-ing TV shows. You have to be in the right frame of mind to fully enjoy it. You have to be mentally and emotionally prepared for some episodes. You need provisions.
ADVERTISEMENT - CONTINUE READING BELOW
I just came from a two-week marathon of Veronica Mars (who's the idiot who didn't do it before the movie came out? This Marshmallow!), and here are some things I picked up along the way.
Find a comprehensive, spoiler-lite episode guide. I didn't follow it, but found Vulture's day-by-day viewing guide incredibly useful. Because there are some episodes you need to see back to back, and some episodes you can skip.

via giphy.com

ADVERTISEMENT - CONTINUE READING BELOW

Do the buddy system. You actually don't need to go to each other's place—you can just spaz with each other online. Capslocking with a friend is so much more fun than dealing with your feels alone.

via teenwolf.tumblr.com

ADVERTISEMENT - CONTINUE READING BELOW

Stock up on junk food and healthy eats. You can only consume so many bags of chips. Change things up by snacking on apples dipped in peanut butter or a bowl of corn topped with cheese. Or the Doctor's favorite: fish fingers and custard.


via mozbie.tumblr.com

ADVERTISEMENT - CONTINUE READING BELOW

Make sure you're not missing any episodes. Because that's the one big advantage of this kind of delayed gratification—cliffhangers? Pfft, what cliffhangers?


via bediamandis.tumblr.com

Restrain yourself. It's tempting to Google if Mary ends up with Francis or Sebastian on Reign. Don't. Delayed gratification, remember?

via holdingonmyheart.tumblr.com


via thatmomentwhensuperwholock.tumblr.com


via giphy.com

ADVERTISEMENT - CONTINUE READING BELOW

Check in. I find that logging on to tvtag, which used to be getglue, is a good way to check my progress and revisit favorite scenes. You'll also see what like-minded friends and fans around the world have to say!


via thatmomentwhensuperwholock.tumblr.com

Change positions and stretch every episode. So that your bones don't pop alarmingly when you come out of the haze.


via shicksome.tumblr.com

ADVERTISEMENT - CONTINUE READING BELOW

Don't forget to take a shower and get some sleep. I know it's hard to hit pause and drag yourself out of bed. Just think of it this way: you'll have time to review the details of Sherlock's case and guess who did it while you're stuck in real life.

via humorinrecovery.tumblr.com

ADVERTISEMENT - CONTINUE READING BELOW

Take a break. It's easy to take a show for granted when it's all you watch day and night. Unplugging is the best solution, but you can also give your system a reboot by watching a half-hour sitcom every five episodes or so. Brooklyn Nine-Nine, Modern Family, and The Big Bang Theory are some of the best.


via giphy.com

ADVERTISEMENT - CONTINUE READING BELOW

Instead of a full-pledged marathon, go for sprints. Five episodes of this show, five episodes of that show, and so on. If you get lost along the way, well, that's what recaps are for!

via sophie06xx.tumblr.com

ADVERTISEMENT - CONTINUE READING BELOW

When you're done and life has no meaning anymore, come find us @candymagdotcom. We got your back.

via thatmomentwhensuperwholock.tumblr.com


via thatmomentwhensuperwholock.tumblr.com


via locadelosgatetes.tumblr.com
ADVERTISEMENT - CONTINUE READING BELOW