All Access
High School Musical 4: Our Dream Cast
Ariana Grande as the new mean girl, anyone?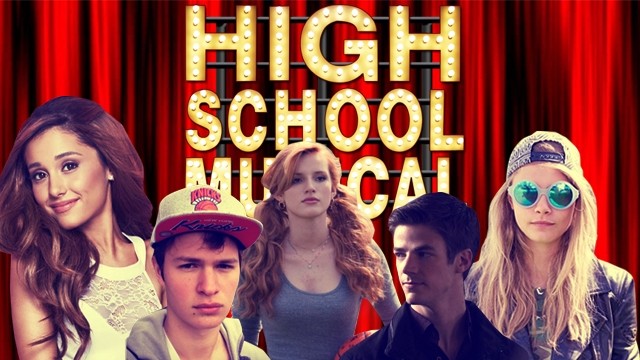 ART Trixie Ison
It's the start of something new—Disney is currently holding auditions for High School Musical 4, which means all-new Wildcats! No one can ever replace Zac Efron, Vanessa Hudgens, and the rest of the OG Wildcats, but we're excited to see fresh faces at East High. Assembling our dream cast is a long shot, but hey, there's nothing wrong with putting it out in the universe!
Cara Delevingne as Erin, "the badass soccer player who strives for excellence—and the only girl on the boys' team." The model-turned-actress is badass to the core and can definitely roll with the boys. Singing is also no problem, since Cara has proven that she can sing in a recording studio and live onstage. 

teenvogue.tumblr.com
Ansel Elgort as Derek, "the bad boy who is tough on the surface but a soft-hearted family guy at his core." Both soccer players, Derek and Erin will most probably be the main OTP of the new Wildcats, and we can totally picture Ansel and Cara together. Derek is also an "incredible dancer who teaches dance classes to little girls at his family's studio." Dancing Ansel + kids = a million GIFs waiting to happen. 

thepeoplesayf*ckyou.tumblr.com
Grant Gustin as Campbell a.k.a. Troy Bolton 2.0. He's the "super hot soccer captain and theater star who also happens to be Sharpay and Ryan Evans' cousin." When he "decides that he wants to date Erin," he realizes that he has serious competition in Derek. That wording makes us think that Campbell may be as talented as Troy, but may not be as kind or good-natured. Grant Gustin can definitely manage some mischief, as we saw during his early days on Glee as Sebastian Smythe. 
theglossdotcom.tumblr.com
Bella Thorne as Nathalie, "a loyal, outgoing cheerleader" who is also Erin's best friend. As an actress, singer, and dancer, Bella can play this role in her sleep! We'd love to see her shake things up at East High. 
Ariana Grande as Tamara, "East High's former queen bee, a cheer squad member attempting to climb back up the social ladder and reclaim all the attention for herself." Ari killed it as Chanel No. 2 on Scream Queens, and she'd be an awesome addition to HSM 4. Even Sharpay would (begrudgingly) agree!
Who's your dream cast? Leave a comment below or tweet us @candymagdotcom!
\\\\\\\\\\\\\\\\\\\\\\\\\\\\\\\\\\\\\\\\\\\\\\\\\\\\\\\\\\\\\\\\\\
Get the latest updates from candy!
subscribe to our newsletter!
////////////////////////////////////////////////////////////////
You don't even have to leave the house!
From digital art to photography to mixed media, Filipino artists show that creativity is never lost in our people.
Skip a makeup step with these beauty goodies!
Take pretty notes and study effectively with these tips!
Wait for a love like this. A love that is good to you, for you.
Are you up for this challenge?
Can't wait to see the actual gowns!
The up-and-coming musicians and childhood friends talk about their music, creative process, and why it's important to be woke.