All Access
Here's Why We're Obsessed with the Korean Drama Tomorrow With You
We're looking forward to the new eps every week!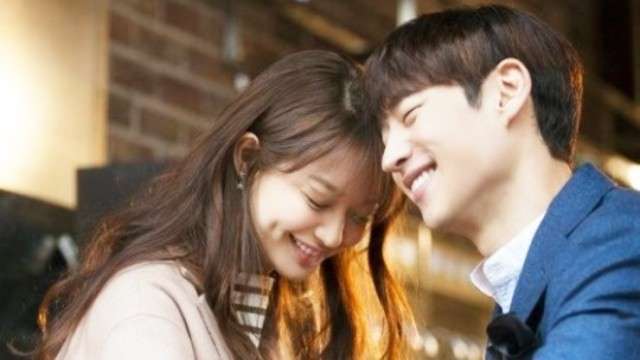 IMAGE tvN
We've mentioned it before, the good thing about one K-Drama ending is the fact that there are new ones we can get obsessed about—and that's where tvN's Tomorrow with You comes in. Since it started airing on February 3, we found ourselves looking forward to it every week! Here, watch the trailer to see for yourself.
Tomorrow With You stars Shin Min Ah as photographer and famous child actress Song Ma Rin, and Lee Je Hoon as Yoo So Jun, time-traveler and a CEO of a real estate company. Their lives intersect in the future when So Jun finds out that they die on the same date at the same time in the same incident. Intriguing, right? If you need more reasons to watch the show, we're giving you four below! 
There's time-traveling involved.
We really don't know what's with time-traveling that we get automatically obsessed about it (heehee!), but that was enough to get us hooked. So Jun can travel to the future via the subway, and finds out early on how he's connected with the love of his life.
ADVERTISEMENT - CONTINUE READING BELOW
Speaking of time-traveling, the plot is sooo good.
You know that feeling you got when you watched Goblin and even W? Yup, that's the feeling we get whenever we watch a new episode of Tomorrow With You. It's not only a perfect balance of comedy and romance. They also added some mystery and thrill into the mix! They perfectly connected the lives of the characters with what happens in the future that it's just amazing, making us look forward to new episodes every single week!
We love Je Hoon and Min Ah's chemistry.
We're not complaining at all that these two were cast for the roles. Min Ah knows how to play characters like this well (don't doubt her drama skills, though, and forget about her performance in Sad Movie, LOL!) and Je Hoon just knows how to make us fall in love with him and his character on cam. Let them join forces and BAM! You got yourself a K-Drama couple that will give you butterflies in your tummy and have you rooting for them until the very end.
ADVERTISEMENT - CONTINUE READING BELOW
Min Ah's style (and character) is TDF!
Song Ma Rin is not only adorable. She's also caring, funny, hardworking, passionate, and also really independent—traits we really love on a female lead character. Her A+ style and wardrobe is a big bonus, too.
You can watch Tomorrow With You on Viu, which is available for free on Google Play and the App Store.
How much should we rely on them to capture our personalities?
Guys, it wouldn't hurt to add a twist to your go-to look!
Shop with an advocacy in mind!
Is IF advisable for a college student's busy lifestyle?
"Planado na, booked na ang trips."
Share your routines, too!
The next Miss Universe Philippines is said to receive the biggest cash prize in the history of Philippine pageantry.
While there is still a long way to go, it's become so much easier to find like-minded people who share the same cause.
It's a game for those who love to play around and break the rules.
Truth is, you don't need to spend a lot to achieve the feed of your dreams or build your portfolio.
Now's your chance to give back.