This is it, you guys! The original cast of Disney Channel's High School Musical, which premiered on January 10, 2006, finally did it. They're reuniting on TV after a decade.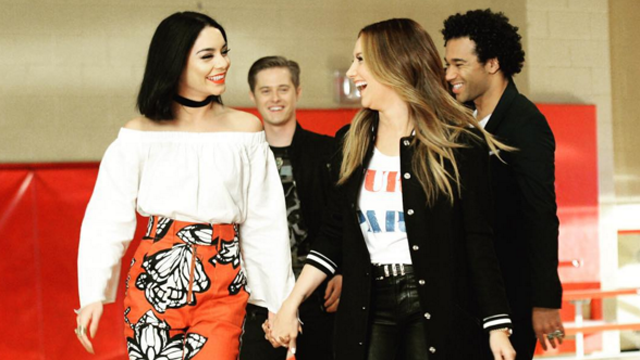 Before their special airs tomorrow, Vanessa Hudgens, Ashley Tisdale, Luke Grabeel, Corbin Bleu, and Monique Coleman talked about the show and how they feel about this reunion on Good Morning America. And if you're a bit bummed that Zac Efron won't be with them, don't worry. He recorded a message for his fans, which they show a bit of during this interview below.
ADVERTISEMENT - CONTINUE READING BELOW
READ MORE:
The High School Musical Gang Is Back!
Zac Efron's Dating Timeline Post-Vanessa Hudgens
So Where Do We Sign Up For Dance Classes With Vanessa Hudgens and Ashley Tisdale?
On how they feel about the first HSM movie which first aired 10 years ago:

Vanessa: My heart is just bursting at these scenes. It's so crazy that it was 10 years ago.

Monique: It taught me that what you do is potentially going to impact people.

Corbin: Just to come back into this room and to see everyone again. We go, "Oh my gosh, we were all part of this together. We made this incredible magic happen together."

On what they think of the movie's success and how they were welcomed by the audience:

V: It was such a whirlwind. It fel like we were kind of swept off into some sort of vacuum. At one point it literally felt like we were The Beatles...

Ashley: Everwhere we went people knew exactly who we were!

On what makes HSM special:

Lucas: High School Musical came out at the perfect time. We were found by fans seeking us out.

C: To actually have real young people playing that age, and then have them put under the microscope, and to survive [and] have nobody completely go off the rails, that's something I think is a huge testament to what this cast is about.

A: We have other friends but they don't understand what we've been a part of and this connection that we have.
The High School Musical special airs on January 20, 8PM (Eastern and Pacific Time) on the Disney Channel.