With Lemon and Meatball off the table, there's a new couple on the menu: Lemonade. Seriously. Best. Couple. Name. Ever. (Or maybe second to LoVe: Logan and Veronica of Veronica Mars.) Found the name so punny that I just had to sit down and have a tall glass of Lemonade watch the episode for realz. Let's dig in:
Rachel Bilson does not get old, does she? (Shameless plug: check out the proof in our "Old School, New School" Hollywood special in the November issue!)
Lemon + Wade = Lemonade! Nyahahaha, dyinggggg.
That's Lemonade's first kiss, right? LOL at Lemon's little nose scrunch! Even better is Wade's "Ewww, why?" later when Lemon kisses him on the cheek!
Possible line of the episode courtesy of Lemon's secret lover: "Until you and Wade are through, this Meatball is closed for business."
Zoe's new boyfriend on Wade before she tells him that Wade's her ex: "I can't believe there are actually guys like that. Did you see his guns? I bet he got them by doing something rugged like chopping down trees or something." I feel ya, Mr. Doc.
Welcome back, pretty dresses and accessories!
Chuck's Captain Awesome is in Bluebell!!! Of course his name here's just as awesome: Carter Covington of the Birmingham Covingtons.
Look at all of Lemon's men in one table, wearing shirts a size too small, all the better to see those guns.
Zoe's cutout dress is TDF. And check out AnnaBeth's Wicked eye makeup. These Blue Belles know how to partay.
George is looking more and more like a dad with every episode, isn't he?
Oh, yeahhhh, Wade is Lemon's beard!
"Is Cricket's husband gay or just Southern?" You get line of the episode, Mr. Doc.
ADVERTISEMENT - CONTINUE READING BELOW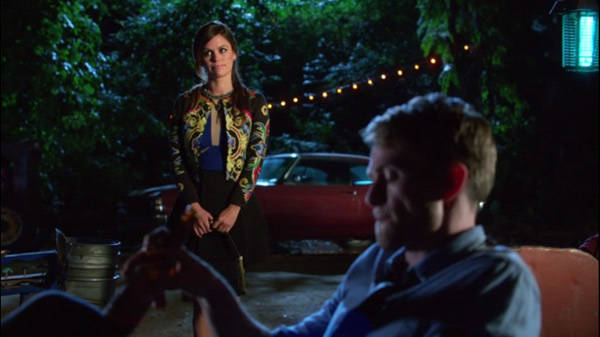 Lemonade's cute and all, but I still ship Zade.
Hart of Dixie airs Fridays at 9pm on 2nd Avenue.