Sorry to be the bearer of bad news, #Larry Stylinson shippers (aka all of us), Harry Styles' new song "Sweet Creature" is not about Louis Tomlinson. In an interview with radio show 106.1 BLI, host Cooper Lawrence dared to ask him exactly that: "They're [fans] sure that that's about your relationship with Louis Tomlinson. Is it?" Poor Harry was taken aback, but managed to express his answer clearly. "I think uh... I mean, you know. I mean, I think people are always gonna speculate what songs are about, and I don't think I'd ever want to tell anyone but they're wrong, for feeling what they feel about a song. Even when they're not necessarily right... But I think if you really listen to the lyrics I think you can work out if it's really about that or not, and I would lean towards no," he said. Aww! Larry or not, we're here for you, Haz! (via dolly.com.au)
Rumor has it that Park Shin Hye is dating actor Choi Tae Joon after they were seen at a national park overseas while on vacation together with some friends. Both actors are students at Chung Ang University taking up drama and cinema and theatre respectively. According to Salt Entertainment, Park Shin Hye's agencey, the two have a "close senior-junior relationship" and that they "have maintained a good friendship as industry senior and junior." The agency also added that "fans are very well aware of their friendship. Park Shin Hye went to the park not only with Choi Tae Joon, but with many other fellow students as well. It seems that, despite the fact that there were a lot of people, many recognized only Choi Tae Joon and Park Shin Hye." (via soompi.com)
ADVERTISEMENT - CONTINUE READING BELOW
Remember when we wrote about BTS possibly beating Justin Bieber, Selena Gomez, Ariana Grande, and Shawn Mendes for the Top Social Artist award at the 2017 Billboard Music Awards? It looks like it's gonna happen as the group is flying to Las Vegas for the event! "BTS announced Monday (May 8) that they will attend the BBMAs in hopes of winning the award for top social artist. The event will be the K-pop superstars' first U.S. red carpet," Billboard wrote. If When they win, they'll go down in history as the first K-Pop group to ever win in the show! (via allkpop.com)
While most stars get mobbed by fans upon entering a room, Riverdale's Lili Reinhart's experience with a fan was quite the opposite. It was unique and special and pretty hilarious. She shared how it all went down on her Insta story.
"Girl at the DMV says– 'Do you watch the show Riverdale? You look just like the girl on there,'" she captioned her first story.
"I said, 'I do?? Omg thank you so much!'" she continued with a picture of her doing an exaggerated face, but later on revealed what her actual reaction was. "Jk, I said "yup that's me." LOL, Lili! (via justjaredjr.com)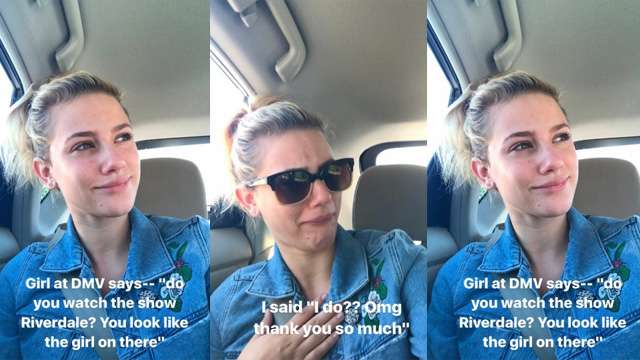 Three years after the release of Prism, Katy Perry's back with new music, and the one thing people seem to be most concerned about is if it has a reaction to Taylor Swift's "Bad Blood." It can be recalled that the two artists have been feuding and that Tay's song was said to take a dig at Katy. "Well that's not my question to answer—if it's about me. I think [my new album is] a very empowered record. There is no one thing that's calling out any one person," she said in an interview.
ADVERTISEMENT - CONTINUE READING BELOW
"One thing to note is: You can't mistake kindness for weakness and don't come for me. Anyone. Anyone. Anyone. Anyone. And that's not to any one person and don't quote me that it is, because it's not. It's not about that. Honestly, when women come together and they decide to unite, this world is going to be a better place. Period end of story. But, let me say this: Everything has a reaction or a consequence so don't forget about that, okay, honey. [Laughs] We got to keep it real, honey. This record is not about anyone else! This record is about me being seen and heard so that I can see and hear everyone else! It's not even about me! It's about everything that I see out there that I digest. I think there's a healing in it for me and vulnerability. If people want to connect and be healed and feel vulnerable and feel empowered and strong, God bless and here it is." Well said, Katy. Hope we could all put this to rest. (via ew.com)