All Access
Harry Potter Cast Members Pay To Tribute Alan Rickman
Daniel Radcliffe, Emma Watson, J.K. Rowling, and more remember the actor—their friend—who played Professor Snape in the Harry Potter series.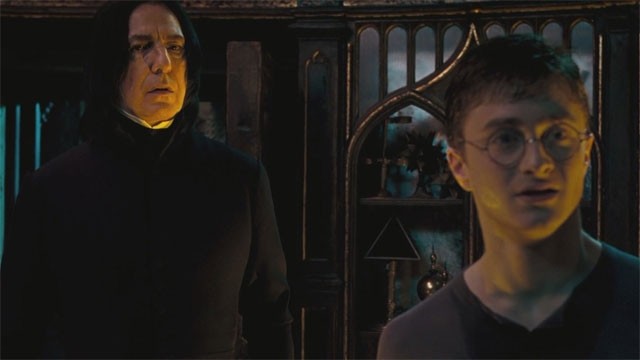 PHOTO Warner Bros. Pictures
Alan Rickman, who played Professor Severus Snape in the Harry Potter movies, has died from cancer at 69 years old. Members of the cast as well as author JK Rowling expressed their deepest sympathies and shared kind words about the man they did not only consider as a co-star, but their friend. Read on to see their beautiful tribute for the theater actor.
Daniel Radcliffe posted this touching tribute on his Google+ page last night.
"Alan Rickman is undoubtedly one of the greatest actors I will ever work with. He is also, one of the loyalest and most supportive people I've ever met in the film industry. He was so encouraging of me both on set and in the years post-Potter. I'm pretty sure he came and saw everything I ever did on stage both in London and New York. He didn't have to do that. I know other people who've been friends with him for much much longer than I have and they all say "if you call Alan, it doesn't matter where in the world he is or how busy he is with what he's doing, he'll get back to you within a day".

People create perceptions of actors based on the parts they played so it might surprise some people to learn that contrary to some of the sterner(or downright scary) characters he played, Alan was extremely kind, generous, self-deprecating and funny. And certain things obviously became even funnier when delivered in his unmistakable double-bass.

As an actor he was one of the first of the adults on Potter to treat me like a peer rather than a child. Working with him at such a formative age was incredibly important and I will carry the lessons he taught me for the rest of my life and career. Film sets and theatre stages are all far poorer for the loss of this great actor and man."
Emma Watson expressed her gratitude for having been able to work with him.
I'm very sad to hear about Alan today. I feel so lucky to have worked and spent time with such a special man and actor. I'll really miss our conversations. RIP Alan. We love you

Posted by Emma Watson on Thursday, January 14, 2016
Author of the series J.K. Rowling was at a loss for words.
There are no words to express how shocked and devastated I am to hear of Alan Rickman's death. He was a magnificent actor & a wonderful man.

— J.K. Rowling (@jk_rowling) January 14, 2016
Evanna Lynch (Luna Lovegood) says goodbye to a beautiful soul.
Am not prepared for a world without Alan Rickman. Such a beautiful soul. He was so kind & generous in the moments he wasn't Snaping about.❤️

— Evanna Lynch (@Evy_Lynch) January 14, 2016
The twins played by James and Oliver Phelps also took to Twitter to grieve.
Shocked & sad to hear Alan Rickman has passed away. One of the nicest actors I've ever met.Thoughts and prayers with his family at this time

— James Phelps (@James_Phelps) January 14, 2016
Terribly sad news about the passing of Alan Rickman. A funny and engaging person who put a shy young actor at ease when I was on HP.

— Oliver Phelps (@OliverPhelps) January 14, 2016
Matthew Lewis who played Neville Longbottom took a trip down memory lane.
Emma Thompson (Professor Trewlaney) wrote about her friend and ally.
"Alan was my friend and so this is hard to write because I have just kissed him goodbye."
Sean Biggerstaff (Oliver Wood) shares what a huge influence Alan has been in his life and career in theater.
ADVERTISEMENT - CONTINUE READING BELOW
"The last time I saw Alan he had, unbeknownst to me, been in hospital for the previous ten days. He got out that morning…and kept our theatre date. In a strange way I'm glad of that frightening episode, as it made me realise that even he was a mortal of flesh and blood and a certain age and he might not always be there. That evening when we parted, I hugged him and told him I loved him and I'm very glad of that now."
Goodbye and good night, Half-Blood Prince. We will remember you, always.
Bea is part of Candy Rookies 2020, a group of influential and aspirational college students handpicked to represent #GenerationCandy in the year to come.
This list compiles the city's tried-and tested music recording studios you'll want to check out.
Students from Humanities courses speak up.
But it doesn't make your parents bad people, too.
Victoria is part of Candy Rookies 2020, a group of influential and aspirational college students handpicked to represent #GenerationCandy in the year to come.
Whether it's a digital ad, a student-produced film, or an indie movie, just go for it! After all, we all gotta start somewhere.
"Push! It! Down! 6, 7, 8!"
Raffy is part of Candy Rookies 2020, a group of influential and aspirational college students handpicked to represent #GenerationCandy in the year to come.
When we've fostered healthy relationships, we shouldn't forget to take care of them, no matter how hectic our schedules can be.
Plus, an updated list of valid IDs for your passport application.
The city government turned the remains of volcanic ash into something the residents could actually benefit from!