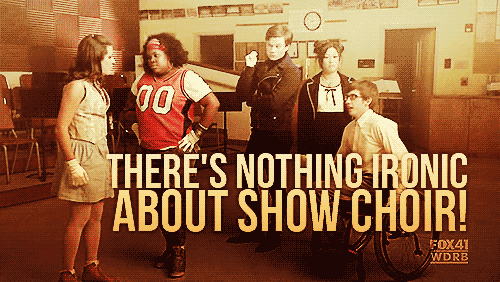 (via gleegif.tumblr.com)
Once upon a time, I loved Glee. When the pilot aired in 2009, the novel concept and fresh characters had me so hooked and so mad about waiting for months to see the following episodes. The first season had its ups (Kurt's storyline) and downs (Terri's baby drama), but I was still a proud Gleek.
Then Dapper Darren came along, and I sailed with the Klaine ship all through Sue's pregnancy, Puck and Shelby's fling, and Crazy Quinn. In season four, Glee introduced a boatload of new characters while still hanging on to the Gleeks who'd graduated already. It sounds like a disaster and it is a disaster onscreen (so far).
I clung to hope that it'll get better with time, but it didn't. It's not that it's so bad, it's good—it's just plain bad, most of the time. I think I'm the only one among my Gleek friends who still watches the show regularly—partly because of Darren Criss, partly because it's literally my job to do so.
ADVERTISEMENT - CONTINUE READING BELOW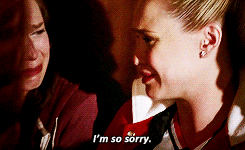 (via f***yeahglee.tumblr.com)
The last episode featured a shooting incident at McKinley, and for the first time in a long while, I couldn't tear my eyes away from the screen. I felt genuinely scared for them and truly moved by their top-notch performances.
That said, I have, to put it mildly, issues with the shooter's identity. (Although, the way they revealed it was pretty good.) It would be nice to have a solid aftermath episode and a rippling effect throughout the following episodes, but the previews for the next one are all about Rachel Berry's Broadway audition and a dream sequence featuring the original members of the New Directions.
ADVERTISEMENT - CONTINUE READING BELOW
While a reunion sounds exciting, I think it's more important to deal with the aftermath of the shooting incident. Look at what Grey's Anatomy did with the hospital shooting and the plane crash. Those events had a long-term effect on the characters and kick-started new eras on the long-running show. They didn't happen just for the shock factor. Then again, this is Glee, so, what continuity?
Some might say they have to bring back the NYC storyline since the last episode was set exclusively in Lima. I say if they just let Rachel and the others truly graduate and just come back for special episodes, they wouldn't have to juggle so many storylines. It's not unheard of; British teen show Skins has had three generations, and they're bringing back three of their most iconic characters for the special Skins Redux. That's how you do transition like a boss.
Fox has yet to renew Glee for season five, spawning rumors that the showrunners are leaving and that negotiations are tricky with Cory Monteith in rehab and Heather Morris reportedly pregnant. The 2009 me would kick myself for saying this, but frankly, I don't care if it gets renewed or not. That is, unless they actually go through with the NYC spin-off and leave McKinley to the more-than-capable hands of the newbies. It's the only happy ending I can think of.
ADVERTISEMENT - CONTINUE READING BELOW