We asked and you voted.
Last month, we asked all of you Candy Girls to vote for your favorite Candy Cuties and now we finally have our Top 3! Brace yourselves for something sweet girls because these boys are definitely note-worthy.
Emil Khodaverdi
You've seen him on the pages of Candy Magazine, and on most of our articles here on Candymag.com. The 18 year old Cebuano started as a Candy Cutie back in 2012 and now the self-proclaimed "Selfie-King" is in college (College of Saint Benilde, no less) studying BSBA Export Management. He's a bit of a rebel while he was in high school (as evidenced by a secret video of him and his friends jumping into the campus pool during their last days at school), but you'll be surprised by the momma's boy in him and his adventurer mindset. Check out these fun facts about him!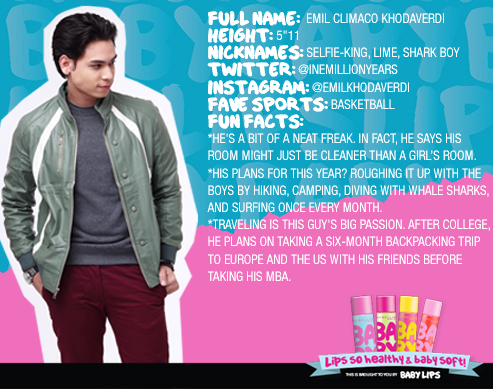 ADVERTISEMENT - CONTINUE READING BELOW
Mark Rivera
This Italian-speaking Candy Cutie is also a big sports fan. In fact, he played professional football from 2012 to 2014! But what we love most about him, aside from his boy-next-door demeanor, is his cool attitude towards work. He's never late, and he always comes in to Candy shoots 30 minutes before the call time. Here's a few more things we know about this 21 year old cutie!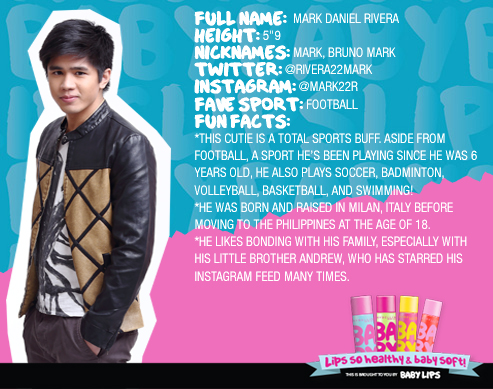 ADVERTISEMENT - CONTINUE READING BELOW
Carl Uy
We were impressed by the enthusiasm he had campaigning non-stop for the Top 3 spot that got him more than 300,000 votes! This just shows his competitive spirit which he takes with him at school or at work. The 18-year old also admits to being a major class clown. In fact, he says he and his friends enjoy late night getaways and last minute plans. Here's a few more facts you might want to know about this Candy Cutie.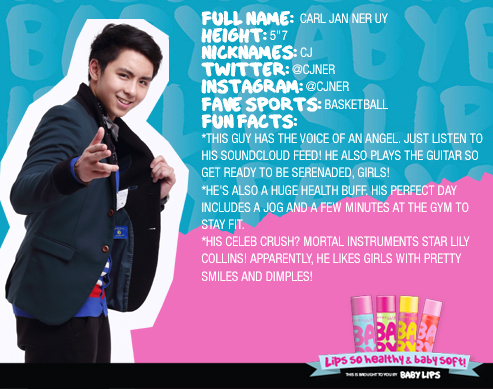 ADVERTISEMENT - CONTINUE READING BELOW
Want to see more of these boys? You're in luck because starting next month, Emil, Mark and CJ will be going around Metro Manila's hang out spots with the Maybelline crew to surprise Candy Girls. Oh and before we forget, they'll be joined by a secret celebrity Candy Cutie who's bound to make your day brighter and your smile wider. Who's this celebrity swooner? Stay tuned by following Maybelline's Twitter and Facebook Page!