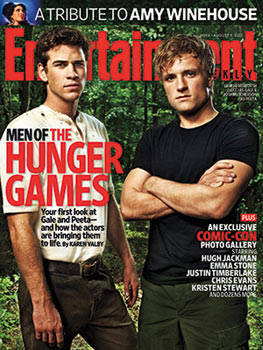 After presenting the first photos of Jennifer Lawrence as Katniss Everdeen in The Hunger Games, Entertainment Weekly gives you your first look at her leading men, Liam Hemsworth as Gale and Josh Hutcherson as Peeta.

Unlike their characters, Liam and Josh have grown close during their time in Panem. Josh even brought Liam to his Kentucky hometown where he had the latter try his grandma's famous fried chicken. "I think it's going to blow people's minds when they see that Peeta and Gale are actually best friends in real life," Josh says.

Do Josh and Liam look like the Peeta and Gale you imagined? Do you have other actors in mind for the roles? Tell us in a comment!
(via Entertainment Weekly)