All Access
Expectation vs Reality: The HIMYM Finale That Everyone's Talking About
SPOILER ALERT! You've been warned.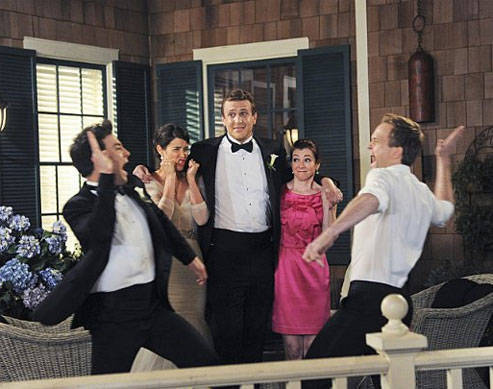 PHOTO CBS, GIFs Tumblr
How I Met Your Mother officially ended its 9-season-long run last March 31 and responses varied from outraged viewers tweeting how it should've been called "How I Met My Second Choice" to Ted-Robin fans rejoicing all over the world. As for me, the ending was far from what I expected. And, to show my thoughts—ahem, distress—over HIMYM's finale, I've put together an expectation vs reality list:
Expectation: "Barney and Robin" forever.

Reality: They got divorced after just three years of marriage. What?!

[This is just heart-breaking. *Sob*]

via benimdetuzumolsun.tumblr.com

Expectation: The entire gang will always be there for the big moments—no matter what.

Reality: The breakup was so bad, Robin couldn't stand being with the gang anymore.


via madhatterway.tumblr.com

Expectation: Barney and Robin will either have miracle babies or adopt. And, they'll be the coolest parents ever.

Reality: Barney got someone pregnant after a one night stand. Sigh. I was really looking forward to a mini-Barney (in a suit) or mini-Robin playing laser tag with the 'rents.

Expectation: Robin will put an end to Barney's womanizing ways.

Reality: As much as I hated Robin and Barney getting divorced, the scene where Barney finally found the girl he'll become an honest and decent man for, baby Ellie, hit me in all the right places. That, I will high-five the writers for.


via gonetoseestars.tumblr.com

Expectation: Marshall will become a judge.

Reality: He did. YAAAAAAAY!I wasn't so supportive of Marshmallow and Lilipad moving to Rome and leaving Marshmallow's dream behind. So, it comforts me to know that some things do work out. Thank you, writers, for this. It kept me from going completely crazy.

Expectation: The Ted-and-Robin drama is officially over. (Finally!)

Reality: They're like, "Surprise! Surprise! BWAHAHA... The blue French horn is back!" (WHY???)


via feytalattractions.tumblr.com

Expectation: Ted and Tracy will have that legendary first meeting-slash-talk.

Reality: It was BEAUTIFUL! I really wish they ended HIMYM after that scene.

via ivelovedthestarstoofondly.tumblr.com

Expectation: HIMYM shows us that with enough patience and endurance, you'll get that ending you pictured.

Reality: The show emphasizes this point: in life, most of the time, what you expect is not what you get. You'll need to be able to accept that and roll with the punches—even when you didn't get the kind of happy ending you wanted.

Just like how Tracy moved on after Max died and Ted continued living after losing his long-awaited "The One," we (I) must learn to respect the writers' choice of ending it this way. Things don't always go the way we plan them. At some point, we need to let go of our expectations and move forward. And that, kids, is the most important lesson I learned from HIMYM.


via mud-bloood.tumblr.com
BUT, seriously...
How could an entire season be dedicated to Barney and Robin's wedding wth Ted "getting over" Robin and an entire series be built upon the premise of meeting "The One" only to have Barney and Robin break up and Ted be robbed of his time with the mother?! What kind of injustice is this? I deserve a reason. I deserve an explanation!
"Every time I'm on stage, I feel like I'm soaring."
A total of 79 countries participated in the survey.
The popular Korean girl group joins fellow Korean stars Park Shin Hye, Ji Chang Wook, and Park Seo Joon as the brand's Global Benchsetters.
Carlos Yulo, Filipino gymnastics superstar, comes from humble beginnings.
Knowing how to operate a vehicle is a good ~adulting~ skill to have.
Tom Riddle's diary not included.
They even beat this generation's music legends Taylor Swift and Ed Sheeran!
"You both acknowledge that growing individually doesn't mean growing apart."
Wait... she has a sister?!
Even the optional plastic bags in supermarkets.
"She's like my sister," Jacob shares.