It's a Friday in Singapore and Hunter Hayes is checking out my new tattoo. I got a TARDIS tattoo (hey, Whovians) on my left wrist just a few days before so he's actually one of the first people to see it in person. "I don't watch Doctor Who, but I've heard everything about it that I possibly could without actually seeing an episode. That's so cool."
With the ice broken and me certified cool (kind of) by the rising country star, I bring up his song called (you guessed it) "Tattoo." It goes, "Your name sounds so good next to mine, just saying. And I think I'm gonna put it in all my rhymes, baby... Your name would be a good tattoo." If he ever decides to get inked, what would he go for? "I like quotes. Bible verses or mottos that I live by would probably be one of my first go-tos. I have a friend that got one and literally two months later, his entire arm was covered in tattoos! I'm kind of scared that if I start, I won't stop!"
ADVERTISEMENT - CONTINUE READING BELOW
Hunter does have a tendency to pile on the words. Lately, he's been spending time with his guitar and laptop, turning his stream of thoughts into songs within 10 to 15 minutes. "It's kind of scary, but I like not thinking through it. I've learned that the more I edit the moment, the less I get out of it."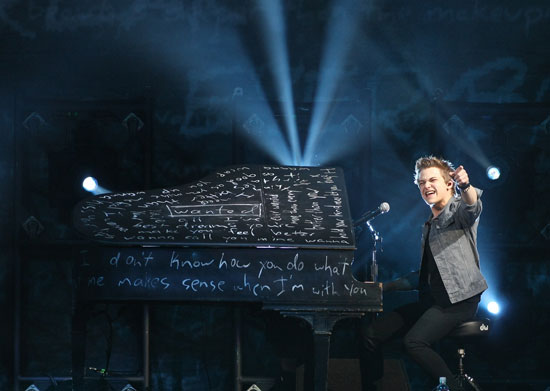 ADVERTISEMENT - CONTINUE READING BELOW
Onstage, his set is covered with lyrics handwritten in chalk, inspired by the arm lyrics of none other than Taylor Swift, who invited him to join the Speak Now tour in 2011. Since then, he has released the albums Hunter Hayes and Storyline, charted with singles like "I Want Crazy" and "Invisible," and toured with Carrie Underwood and Rascal Flatts. Oh, and there's the thing about his self-titled album, for which he wrote/co-wrote all the songs and played all 32 instruments, earning him three nominations at the Grammys. Now he's headlining his own tour to promote Storyline, with a quick stop in Singapore for a showcase and autograph signing session.
ADVERTISEMENT - CONTINUE READING BELOW
Going back to that Friday, surrounded by reporters on a rooftop with a gorgeous view of the SG skyline, Hunter is asked: what keeps him grounded? The 22-year-old baby-faced old soul says, "The success of one song doesn't mean the success of the next. That's what excites me, what scares me and what keeps it real. I could write a song according to what has already worked, but I like moving forward. Even if you fall flat on your face, at least you're discovering things along the way."