Here's a little quiz for you this weekend, Candy Girls. We turned some of your favorite songs' titles into Emojis, so we can play a little guessing game with you today. How many of them can you guess correctly?The answers are found below, but no cheating, okay?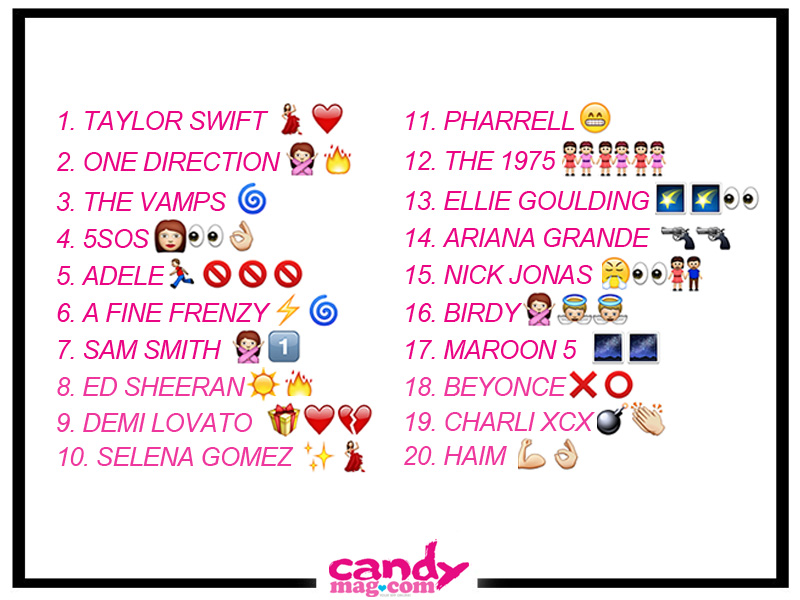 Answers (highlight to reveal):
ADVERTISEMENT - CONTINUE READING BELOW
Taylor Swift - "Red"

One Direction - "Fireproof"

The Vamps - "Hurricane"

5 Seconds of Summer - "She Looks So Perfect"

Adele - "Chasing Pavements"

A Fine Frenzy - "Electric Twist"

Sam Smith - "I'm Not the Only One"

Ed Sheeran - "Sunburn"

Demi Lovato - "Give Your Heart a Break"

Selena Gomez - "Stars Dance"

Pharrell Williams - "Happy"

The 1975 - "Girls"

Ellie Goulding - "Starry Eyed"

Ariana Grande - "Bang Bang"

Nick Jonas - "Jealous"

Birdy - "Not About Angels"

Maroon 5 - "Goodnight, Goodnight"

Beyonce - "XO"

Charli XCX - "Boom Clap"

Haim - "Strong Enough"
ADVERTISEMENT - CONTINUE READING BELOW