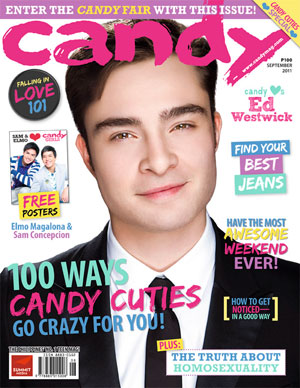 You've been looking forward to this issue the whole year, we're sure. It's the Candy Cuties Special with the dashing Ed Westwick on the cover. We love that cute smirk of his and that adorable tilt of his head, don't you?
But that's not all you'll be seeing in our September issue. We've got the cutest boys in town packed in a mini-mag that will have you smiling till your jaws hurt! And you even get free posters in this issue! How awesome is that? Speaking of awesome, want to know how to have the most awesome weekend ever? Well, that's in here, too! Plus tips on how to get noticed—in a good way!
We're on a roll, but it's not over yet! More fun stuff in the mag: Falling in Love 101, Find Your Best Jeans, Plus: The Truth About Homosexuality. And that's not even half of it.
What are you waiting for? The September issue is now available at bookstores and magazine stands nationwide for only P100. What's even better? This serves as your ticket to the Candy Fair so make sure you keep it!
ADVERTISEMENT - CONTINUE READING BELOW
Here's a sneak peek until you get your copy: click me!