ICYDK, Donnalyn Bartolome is currently in hot water for her most recent birthday vlog that showed off her "kanto"-inspired celebration.
In the video, the 28-year-old vlogger invited her family and friends to her birthday celebration in a closed-off street filled with tables, benches, and plastic monoblock chairs. She also hired jeepney and tricycle drivers to bring her guests to her party's location. For her handa, she served classic Pinoy street food like isaw, kwek kwek, and balut. Instead of the usual birthday cake, Donnalyn opted for a tutong or burnt rice cake. For entertainment, there was a videoke machine and even a pabitin with different prizes.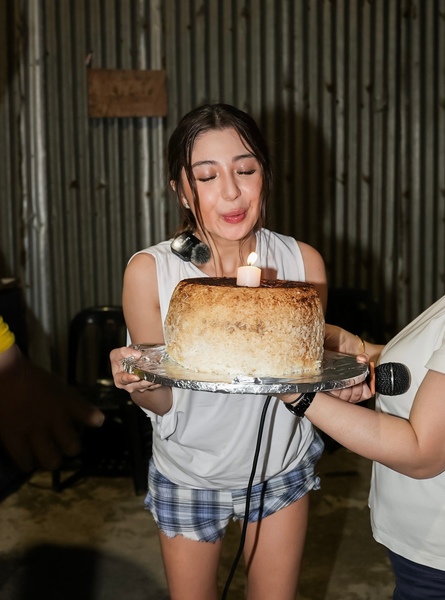 The star-studded guest list included celebrities and influencers like Zeinab Harake, Paul Salas, Mikee Quintos, Ella Cruz, Richard Juan, Awra Briguela, Mika Salamanca, and many others. Donnalyn urged her guests to wear simple clothes like shirts, sandos, slippers, and shorts to stay true to her "theme."
ADVERTISEMENT - CONTINUE READING BELOW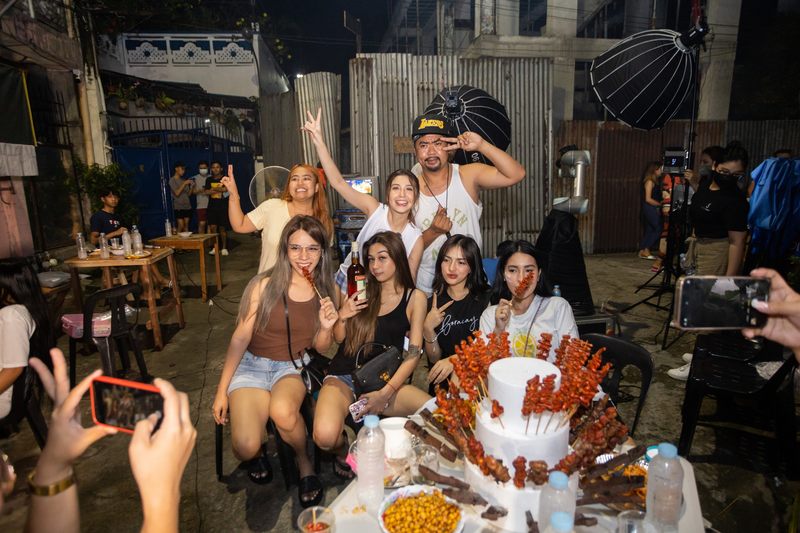 While many of her supporters found the concept creative and made them ~reminisce~ about their childhood while watching the video, other netizens expressed their disappointment about it. According to them, they found it to be "highly insensitive" and "problematic," with some even saying that the vlogger was "romanticizing" poverty.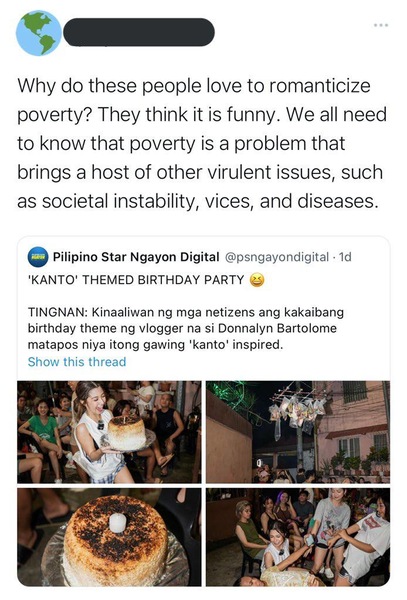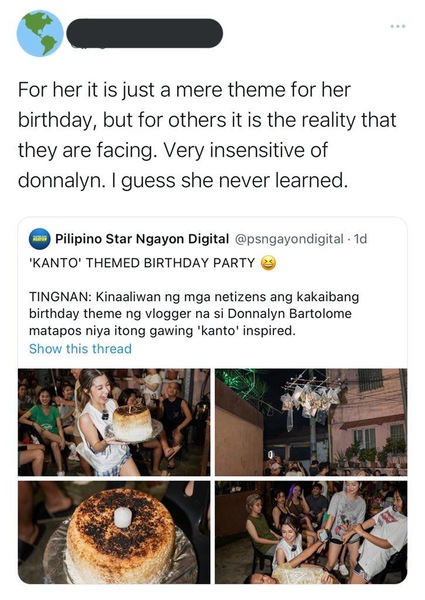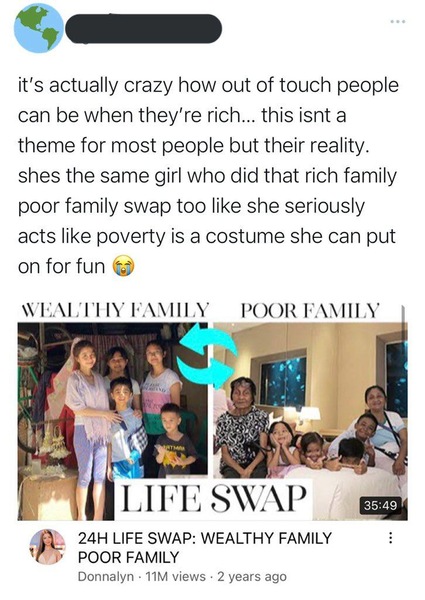 This is not the first time Donnalyn drew flak for her content. Two years ago, she made a video where she switched lives with a struggling family for a day.
In her birthday vlog, Donnalyn explained that she wanted to "relive" her life as she was starting out in the showbiz industry. "My Kanto Birthday Party is not just a concept, this was my life when I left home abroad where my life was comfortable," she wrote in her Facebook post.
ADVERTISEMENT - CONTINUE READING BELOW
She continued: "So I relived the times when I was just starting out on my bday last month July 9, just like nung time na walang wala pa ako.. pero nandiyan yung mga taong mahal ako kahit butas butas ang shorts.. at murang sapatos at tsinelas lang kaya kong bilihin."
"Ngayon.. mas dumami pa ang nagmamahal saakin kahit ganito mga trip ko.."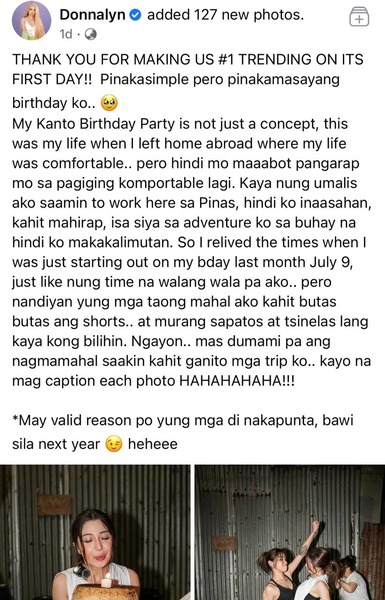 The 28-year-old YouTuber was recently criticized for her sexy baby-themed birthday photoshoot last month which netizens claimed "enabled pedophilic culture." She has since taken down the photos and issued an apology.
As of this writing, however, she has yet to speak up about the allegations being hurled against her for her latest vlog.