Super cool GIF of all 12 Doctors (via danceforeverunderthelights.tumblr.com)
On August 4, Peter Capaldi was revealed as the Twelfth Doctor on British sci-fi/fantasy series Doctor Who, replacing my beloved Matt Smith. I know, anong petsa na, but I can explain. You see, I'm Eleven's girl through and through. You know how you love one character so much that you can't even begin to imagine anyone replacing him? I was so in denial that I completely forgot about the Twelfth Doctor announcement. I was even talking to a Whovian friend about Supernatural's Misha Collins trolling the night before the live announcement, but the next morning, it totally slipped my mind. That's until around noon, when I almost spilled coffee on my keyboard in my rush to Google it.
ADVERTISEMENT - CONTINUE READING BELOW
ADVERTISEMENT - CONTINUE READING BELOW
Peter Capaldi. He's most known for playing a foul-mouthed spin-doctor on The Thick of It, and I knew him as Sid's dad on Skins­ and as a different character in a 2008 Doctor Who episode. But at that exact moment, all I could think of was, Who the heck are you? Immature, I know, but I couldn't help it!
After going through the five stages of (fangirl) grief, I've come to accept the inevitable. If there's one thing that Doctor Who is about, it's that change is constant. Matt Smith can't play the Doctor forever. Neither could David Tennant (Ten), Christopher Eccleston (Nine), nor the eight other Doctors that came before them. Still, Doctor Who carries on, becoming better and even more relevant through the years.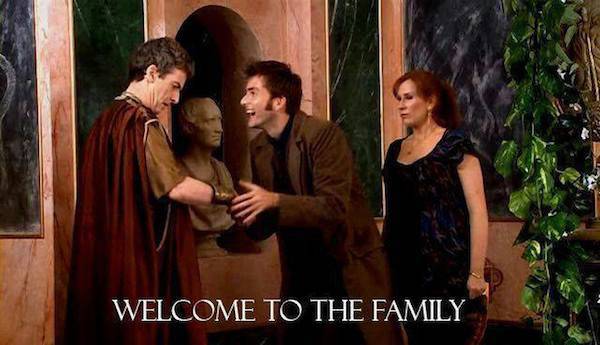 Ten meets the future Twelve in 2008's "The Fires of Pompeii." (via Matt Smith Facebook fan page)
ADVERTISEMENT - CONTINUE READING BELOW
Some say Peter Capaldi is too old, too famous, etc., but you know what? There was also such a backlash when Matt Smith first came into the picture at the height of David Tennant's popularity. Too young (the youngest at 26, actually) and unknown, they said. But now Matt's about to end his own golden age. It's a vicious cycle that Whovians wholeheartedly take part in.
I'm sure that I will cry buckets when Eleven regenerates in the Christmas episode (Merry Christmas to you too, writer-producer Steven Moffat), but I'm also certain that Twelve will grow on me. In fact, he's already started to. When he was a 15-year-old fanboy, Peter Capaldi sent a letter about Doctor Who to the Radio Times in 1973. Adorable, right?
Now all that's left to do is look forward to the 50th anniversary special in November and the Christmas special—Matt's last two episodes. Never has this quote from Eleven been more heartbreaking: "I'll be a story in your head. That's okay. We're all stories in the end. Just make it a good one, eh? 'Cause it was, you know. It was the best."
ADVERTISEMENT - CONTINUE READING BELOW