Dianna Agron is best known for her role as Quinn Fabray on the hit show Glee. She also stars opposite Alex Pettyfer in the movie I Am Number Four. But did you know that she also starred in a 10-minute film that she wrote and directed herself? A Fuchsia Elephant is a story of 18-year-old Charlotte Hill (Agron) who recreates her eighth birthday party with the help of her friend Michael (Dave Franco).
We couldn't find any videos on the Internet, but these stills were posted on the A Fuchsia Elephant IMDB page. The movie looks whimsical and almost very Alice in Wonderland-like. Sounds like Dianna since she seems to have a fascination with Alice in Wonderland with her Tumblr page named Fell Down the Rabbit Hole. Could the "Charlie" in You Can Call Me Charlie be short for Charlotte Hill?
Would you watch Dianna's film? Sound off below!
ADVERTISEMENT - CONTINUE READING BELOW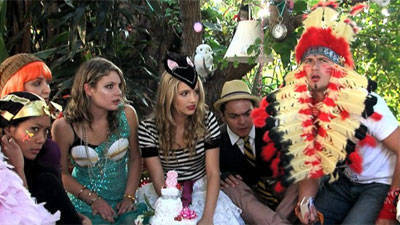 ADVERTISEMENT - CONTINUE READING BELOW